Ken Venturi, Longtime
CBS Golf Analyst, Dies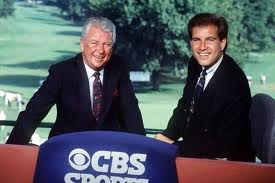 Ken Venturi with CBS broadcast partner Jim Nantz

May 22, 2013 - Ken Venturi, the 1964 U.S. Open Champion and longtime CBS golf analyst, died in Rancho Mirage, California, on May 17, 2013, after being hospitalized for two months for a spinal infection, pneumonia, and an intestinal infection. He was 82.

Venturi turned pro at the end of 1956 and was a regular winner during his early years on the PGA Tour. He came close to winning the Masters in 1958 and 1960, but was edged out both times by  Arnold Palmer.

After suffering minor injuries in an automobile accident in 1961, Venturi's swing, and thus his career, began to slide. However, Venturi started to regain his form and began playing well again. After a couple of high finishes, Venturi reached the pinnacle of his comeback by winning the U.S. Open in 1964 at Congressional Country Club, after nearly collapsing in the 100 degree heat and humidity of the 36-hole final day. He received that year's Sports Illustrated magazine's "Sportsman of the Year" award and PGA "Player of the Year" award.

Following his remarkable U.S. Open win in 1964, Venturi's career again took a blow when he was diagnosed with carpal tunnel syndrome in both wrists. After several surgeries his condition was reversed, but he was never able to regain his past form. He retired from the Tour in 1967 with a total of 14 career wins.

Venturi, a Lifetime Member of the ASA, spent the next 35 years working as a color commentator and lead analyst for CBS Sports, the longest such stint in sports broadcasting history, before retiring in 2002.  "He became the voice of golf in America's living room," said his longtime broadcast partner and ASA Board Member, Jim Nantz.

Venturi was inducted into the World Golf Hall of Fame via the Lifetime Achievement category on May 6th but he was unable to attend the ceremony due to illness. Nantz paid tribute to Venturi and had this to say about his close friend and colleague:

"You did it your way, Kenny. There will never be another one like you. Thank you for the ride. You have left a stamp not just on my career, Kenny, but on my soul."
*                  *                       *