Mr. Smith Goes to MSG
Network Near Deal with Kenny
by Andrew Marchand, NY Post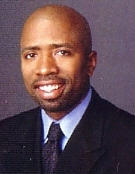 In a potentially big victory for the Madison Square Garden Network over YES network, MSG is on the verge of signing Kenny Smith to work a portion of the New York Knicks' TV schedule.
YES had pursued Smith to be its lead analyst on New Jersey Nets broadcasts. The New York native would have worked 50-60 games alongside new play-by-play man Marv Albert.
On MSG, Smith- who will appear on TNT's popular Thursday NBA studio show- is expected to fill in for regular analyst Walt Frazier on about 20 Knicks games.
"We are currently in negotiations," Smith said through a TNT spokesman.
MSG has impressive alternatives if the Smith deal were to fall through. Network executives have spoken to the highly respected Len Elmore, as well as to former Knick Hubert Davis, who showed potential while filling in on radio last year.
An MSG Network spokesman declined comment.