"Malibu" Kelly Hayes Helps
Al Michaels Stay Spot On
by Michael Hiestand, USA Today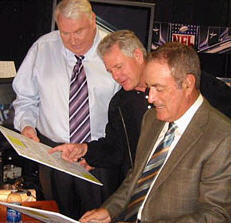 Growing up in Malibu, Calif., Kelly Hayes surfed a lot.
But it didn't keep him from dreaming of a better life: "I thought, 'If only I could be a Texas high school football player.'"
Hayes managed to escape Malibu. He lives in Aspen, Colo., has several months off from work each year to get in skiing and surfing and makes his living watching top NFL games really closely. He says the key to his success "was that I have yet to spill coffee. And it was just showing up."
Hey, youngsters, sound like your kind of career? Hayes isn't exactly gung-ho when asked what he'd tell anybody wanting to follow in his footsteps: "First of all, you should set your bar higher than that."
Kelly "Malibu" Hayes, as he's been dubbed by Al Michaels on national TV for years, is Michaels' spotter. This came about after Kelly, while a Boston University student in 1978, went to golf's U.S. Open to research his thesis on how networks covered it.
Really.
That led to working as an ABC Sports "runner" (gofer) and hearing that Michaels was looking for a spotter, "I called and said, "Sure, I know how to do that," says Hayes, who then showed up to work a Penn State-Nebraska game "and had no clue, and it was pretty clear. My spotting board was a monstrosity."
But Hayes didn't have to slink back to Malibu to spend a lifetime sipping spritzers in hot tubs and sulking about what might have been. Since that 1978 game, he says "I don't think Al has called a play when I haven't been to his left."
He also worked college football for Keith Jackson and Dan Fouts, but his big gig has been working with Michaels on ABC Monday night games- and following him this season to NBC's Sunday night games.
Hayes spends about 10 hours a week on his board, where stats and notes are organized, so he can point them out to Michaels. Play-by-play callers face lots of distractions- reading promos, hearing countdowns to ads- and Hayes says he's a "second set of eyes" for Michaels.
In a new wrinkle, nbcsports.com has posted Hayes' board so it can be downloaded, printed out and pointed at so people around you seem smarter. But in your homage to a guy who's been asked if he's "Malibu" after introducing himself, don't spill coffee on it.