Legendary Broadcaster and
ASA Hall of Famer
Keith Jackson to Retire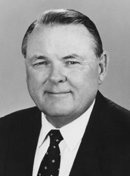 ESPN.com news services
NEW YORK -- Keith Jackson thinks this is the right time for him to retire.
Jackson, widely regarded as the voice of college football, has decided to stop broadcasting games. "I'm finished with play-by-play forever," he told The New York Times.
Jackson spent some 40 years calling the action in a folksy, down-to-earth manner that made him one of the most popular play-by-play personalities in the business.
"Keith Jackson is a man of great character and a legendary broadcaster," ESPN and ABC Sports president George Bodenheimer said. "For decades, his unmistakable style defined college football for millions of fans. While we hate to say goodbye, we understand his decision and wish him the very best."
He also announced he would retire after the 1998 season, but ended up continuing with ABC Sports. He said this time is different.
"This is the perfect time," Jackson told the newspaper. "I don't want to get back into the pressure cooker of play-by-play and worry about travel. I don't want to die in a stadium parking lot."
Jackson, 77, began calling college football games with ABC in 1966. He also worked NBA, NFL games and the Olympics, but was always best known for college football.
"We very much wanted Keith to return for what would have been his 40th season," ESPN and ABC Sports executive vice president Norby Williamson said. "When he expressed to us that he was considering retirement, we repeatedly tried to convince him otherwise, but completely respect his decision. As it turns out, it's fitting that Keith's final game call was the 2006 Rose Bowl, an historic event where Keith was right where he belonged -- as the great narrator skillfully articulating the drama for a captivated audience. We are forever grateful."
Information from The Associated Press was used in this report.