Commercials, NFL Keep Him Hip, But For Harry Kalas, Baseball is Still the Thing
by Gary McKillips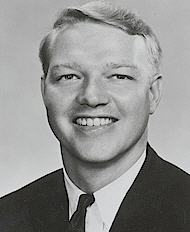 He began his career over 40 years ago, but this broadcasting icon is so hip he's still called upon by Campbell's to sell their new Chunky Soup brand and by Budweiser to plug its "Flickball" competition in sports bars across the country.
In addition, he calls weekly highlights for the NFL on HBO, does Westwood One NFL games on Sundays and, when spring rolls around, returns to his "real job" as the legendary voice of the Philadelphia Phillies.
He's Hall of Fame broadcaster Harry Kalas and, while the nation may associate his inimitable voice with TV commercials or NFL highlights, people in the tri-state area of Pennsylvania, Delaware and New Jersey live and die by his accounts of the Phillies on radio and television. They've done so for 33 years and will for at least three more as Kalas has inked an extension of his contract to call Phils games through the 2006 season.
In an interview at Bright House Networks Field in Clearwater, Florida, the new spring training home of the Phillies, Kalas said that not much has changed since he began his play-by-play career with the Hawaii Islanders in 1961, their first year in the Pacific Coast League. He still loves the game, says his relationships with today's players are not much different than they were many years ago and thinks preparation is the key to a good call.
What has changed for Kalas is his status in the American sportscasting fraternity. From fledgling announcer in Hawaii, Kalas moved to Houston, then to Philadelphia, both stepping stones to the Baseball Hall of Fame in Cooperstown. He was presented the Ford C. Frick Award, symbolic of induction into the Broadcasters' Wing of the Baseball Hall of Fame in 2002. He joined By Saam, another Phillies legend, in the Broadcasters' Wing and Richie Ashburn, his beloved broadcast partner for 27 years, who made it to Cooperstown as a player.
The loss of "Whitey," who died in 1997, was certainly the low point of Kalas' career. He still thinks of Ashburn everyday. But Kalas' fondness for the game helped him overcome the loss and continue as the Phillies' number one voice.
Kalas recalled his first baseball game and what it meant. "I was raised in Naperville, Illinois, which is 30 miles outside of Chicago," he said. "The first game my dad took me to was the White Sox and the Senators at Comiskey Park. It was a rainy day so he was able to get tickets right behind the Senators' dugout. I'm 10 years old, all wide-eyed at my first major league game. Since it rained there was no batting practice and Mickey Vernon of the Senators poked his head out of the dugout and sees this wide-eyed kid. He picks me up, takes me to the dugout, gives me a baseball and that began my love of the Senators and baseball."
Kalas went on to graduate from the University of Iowa and credits the experience he gained at WSUI, the student radio station, with helping launch his career. "We did everything - football, basketball, baseball, track, swimming - every time there was an event we were out there with mikes doing play-by-play making fools of ourselves, but what great experience," Kalas said.
From there it was on to the Army. Drafted on the same day he graduated from college, Kalas drew an assignment at Schofield Barracks in Hawaii. He became a radio specialist for the military producing home town interviews with soldiers for radio stations across the country. That experience gained him an entree to the Islanders. As their first broadcaster, Kalas called all Islanders home games live and did recreations of away contests.
His ticket to the major leagues came with the help of an Islanders executive who paid for his trips to the annual major league baseball meetings. At the 1964 meeting in Houston, Kalas met Houston Colt .45s executive Dick Blue who hired him for the 1965 season to join Gene Elston and Lowell Passe. It was also the first year the Colt .45s, newly renamed the Astros, played in the Astrodome.
While the teams were less than spectacular, Kalas remembers those years for performances by Don Wilson, who no-hit the Braves in 1967; Joe Morgan, the Hall of Famer who wound up an integral part of Cincinnati's "Big Red Machine"; Jim Wynn, "The Toy Cannon"; and "whacko third baseman," Doug Rader. "It was a lot of fun," Kalas added.
While Houston may have been fun, Philadelphia has been a real blast. It's where Kalas became revered for his baseball work. It also served as a springboard for other choice assignments, including Notre Dame football, Big Five basketball, and his work with NFL Films. Kalas replaced his friend and former Philadelphia newsman John Facenda as the voice of NFL Films when Facenda passed away in 1984. With his new contract in place, Kalas looks forward to the seasons ahead. Only from now on he'll be calling games from Philadelphia's Citizens Bank Park, the new home of the Phillies, where the scoreboard restaurant, "Harry the K's," is named after Kalas and is located in a part of the stadium appropriately called "Ashburn Alley."
Gary McKillips is an ASA Advisory Board Member and free-lance writer based in Atlanta. In addition to his writing, McKillips served as Vice President of Corporate and Sports Public Relations for Turner Broadcasting, head of PR for the University of Tennessee and is now a Director of Communications at Georgia State University's Robinson College of Business.