Julianne Viani
MSG Network Analyst

A One-on-One Interview


by Lou Schwartz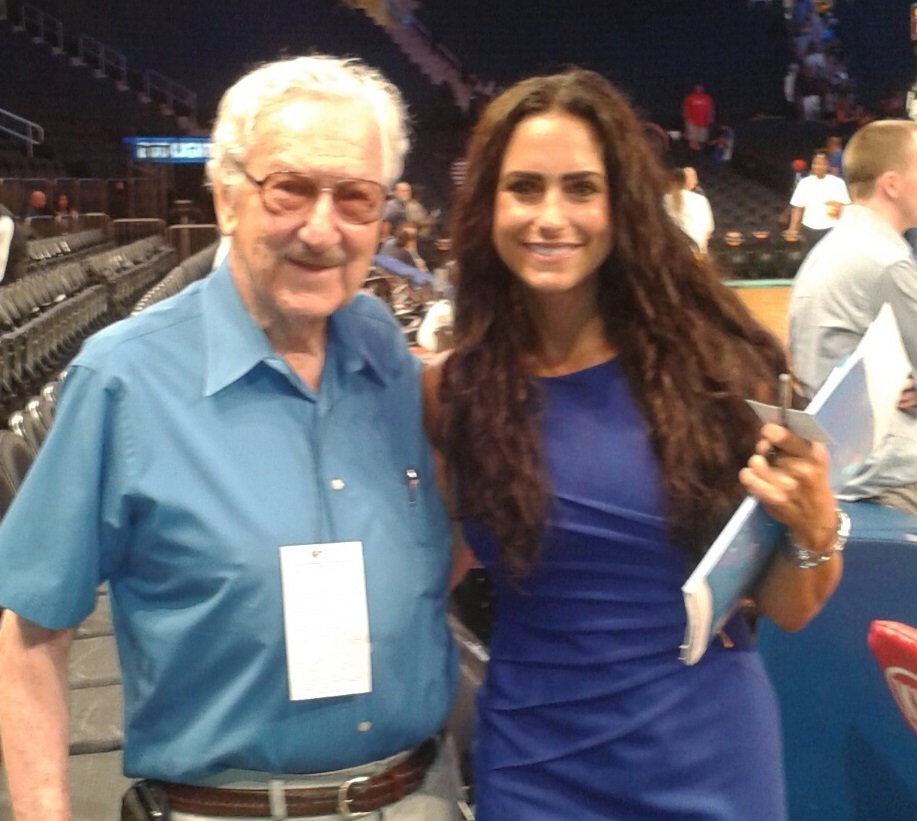 ASA President Lou Schwartz and MSG Network Liberty Analyst Julianne Viani - Madison Square Garden - 6/24/16

FOR IMMEDIATE RELEASE
June 28, 2016 - The following is an exclusive interview with Julianne Viani, New York Liberty analyst on the MSG Network, conducted  by ASA President Lou Schwartz prior to the Liberty taking on the Chicago Sky at Madison Square Garden on June 24, 2016.  A former standout basketball player at Marist College, Viani also played professionally in Europe before setting her sites on a career in broadcasting.

Lou Schwartz: When did you decide to become a sportscaster?

Julianne Viani: I didn't study it. I kind of fell into it. After I got back from playing professional basketball overseas in Europe, my college basketball coach at Marist got a call from Mike Quick at MSG Varsity Network. He used to cover my games in high school and he wanted to know if I was interested in doing TV. He let me do some high school games and I slowly started doing more and more games. I like to say it found me. God found it for me.

LS: What actually made you decide to pursue it?

JV: I loved it. I was really nervous when I first started but then I realized I had a niche for it. I thought, 'Man, if I really work at this I could be really good.' I love the game of basketball so it will also keep me around the game and I can share my knowledge from when I played with the people watching. I thought it was an awesome idea.

LS: As many sportscasters have told me, they would do it for free.

JV: I would do it for free. It's not a job. It doesn't feel like a job because I love it.

LS: As the former President of the Finger Lakes Broadcasting Corporation in Geneva, NY, doing Yankees minor league broadcasts, we would have many young sportscasters glad to work for $25 a game.

JV: When I first started I didn't get paid much at all. I used to drive two hours to do some college games at St. John's but I did it because I wanted experience.

LS: What difficulties did you encounter when you first started, especially as a woman?

JV: You can get a lot of people that judge you. I think women are judged a little more in every way - style of broadcasting, appearance, etc. I did some men's college games and there were message boards where people would make negative comments. I never looked at them but you would hear about it. There are still a lot of people who don't like women calling men's games. They just don't like to hear that tone of voice so until you prove that you know what you're talking about you're going to be looked at like, "Who is this person trying to call the game?'

LS: I wrote an article entitled "Women in Sportscasting: A Brief History" in 1997 and at that time women had a lot of trouble because sports fans, mostly men, wouldn't accept them doing men's sports. Pioneers like Lesley Visser had a very difficult time breaking into the business.

JV: I think it was harder in the past. It's becoming more accepted in society now but it's still a struggle. You still have to push. ESPN and the different networks are looking for diversity so they're starting to give women more opportunities now but it's still a battle. The men are still dominating the field.

LS: Do you find that fans are sometimes abusive?

JV: No. I've never had anyone abusive. Thank God.

LS: Where do you see yourself in five years?

JV: That's the big question. I just hope to be excelling every year. I want to continue doing everything. The person I look up to the most in this field is Doris Burke. I look at what she's done - the NBA, college men's basketball, college women's basketball.  She'll do the WNBA.  She'll do sideline reporting and analysis. She does everything. So that's where I hope to be.

LS: Something I read in your bio that intrigues me is that you have a great faith in Jesus Christ.

JV: Yes. My faith in Jesus Christ is my driving force. It means everything to me. My faith is what's gotten me where I am. I believe that God opened up these doors for me. He was with me in my playing career and he's with me now opening doors I believe that no man can close. I'm just continuing to follow the path that He has set for me. I give God all of the credit for any of my success.

LS: Do you do any speaking or are you involved with any charities?

JV: I'm involved with Fellowship for Christian Athletes, which is an organization that is really being used to impact the youth and the professionals for Christ. I try to do some different events and speaking engagements for them. I also volunteer for a basketball prison ministry called Pass the Rock. We go into the prisons and play basketball with the juvenile delinquents and then we talk about God afterwards. Once they see you can play they really listen to you. It's amazing.

LS: Thank you for a most informative interview and I know we will be hearing a lot from you in the future.

*                           *                             *