ASA Board Member Jon Miller Wins
Ford C. Frick Award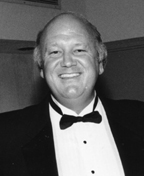 COOPERSTOWN, N.Y. -- ASA Board member Jon Miller, who has spent parts of five decades as the voice of five major league baseball teams, was selected Monday, February 1, as the 2010 recipient of the Ford C. Frick Award.
A native of San Francisco, Miller has called games for the Giants, Baltimore, Boston, Texas and Oakland, and has been the voice of ESPN's Sunday Night Baseball telecasts for 20 years. He was on vacation in South America when he received the call from the National Baseball Hall of Fame and Museum.
"I told my wife I'll never forget Cartagena, Colombia," said Miller, who joins former Giants broadcasters Lon Simmons and Russ Hodges as winners of the award. "The first thing I thought of was Lon Simmons and Russ Hodges, who taught me the game as a kid growing up. It really is kind of astounding to me because Russ and Lon were larger-than-life people to me. My idols."
Miller, who will be honored during Hall of Fame induction ceremonies in July, began his broadcasting career in the Bay Area in 1974, landing a job as the play-by-play man for the Oakland A's.
After holding various broadcasting jobs in the Bay Area, also calling hockey, soccer and basketball, Miller joined the radio crew of the Texas Rangers in 1978, moved to Boston in 1980 to take the Red Sox's radio job, then went to Baltimore in 1983 to handle the Orioles' radio duties.
While in Baltimore, Miller called the last out of the 1983 World Series as the Orioles captured their third title and worked on NBC's Game of the Week with Frick Award winners Joe Garagiola and Tony Kubek from 1986-89.
In 1990, Miller took over ESPN's Sunday Night Baseball and seven years later returned home to become the voice of the Giants, a position he still holds today.
Miller, who called Barry Bonds' 756th career home run in August 2007, has broadcast 13 World Series.
Copyright 2010 by The Associated Press