NFL Announcer John Madden Retires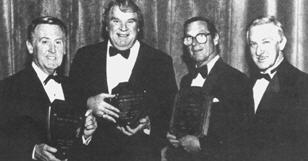 The 1985 ASA Honorees: (l. to r.) Sportscaster of the Year Vin Scully, Sports Personality of the Year John Madden, and Humanitarian Award recipient and former Treasury Secretary William E. Simon with ASA President Lou Schwartz

(AP) NEW YORK April 16, 2009- John Madden is retiring from football announcing, where his enthusiastic, down-to-earth style made him one of sports' most popular broadcasters for three decades. The Hall of Fame coach spent the last three seasons on NBC's "Sunday Night Football." His final telecast was the Super Bowl in February.
"You know at some point you have to do this — I got to that point," Madden said on his Bay Area radio show Thursday. "The thing that made it hard is not because I'm second guessing, 'is it the right decision?' But I enjoyed it so damn much.
"I enjoyed the game and the players and the coaches and the film and the travel and everything."
Cris Collinsworth will replace Madden, moving over from the network's studio show, NBC Sports chief Dick Ebersol said. Collinsworth filled in when Madden took a game off last October.
Ebersol called Madden "absolutely the best sports broadcaster who ever lived."
Madden said his health is fine, but at the age of 73, he wanted to spend more time with his family. His 50th wedding anniversary is this fall, and his five grandchildren are old enough to notice when he's gone.
"If you hated part of it or if something was wrong, it'd be easy," Madden said.
Madden's blue-collar style and love for in-the-trenches football endeared him to fans. His "Madden NFL Football" is the top-selling sports video game of all time.
Madden is reluctant to fly and often traveled to games in a specially equipped bus.
Longtime broadcast partner Al Michaels said Madden will have a unique place in pro football history.
"No one has made the sport more interesting, more relevant and more enjoyable to watch and listen to than John," Michaels said in a statement. "There's never been anyone like him and he's been the gold standard for analysts for almost three decades."
Madden began his pro football career as a linebacker coach at Oakland in 1967 and was named head coach two years later, at 33 the youngest coach in what was then the American Football League.
Madden led the Raiders to their first Super Bowl victory and retired in 1979. He joined CBS later that year.
He worked at CBS until 1994 when the network lost rights to broadcast NFL games, leading him to switch to Fox. He left Fox in 2002 to become the lead analyst for ABC's "Monday Night Football" and joined NBC in 2006 when that network inaugurated a prime-time Sunday game.
Madden said that for the last several years, he waited until two months after the season to determine whether to continue, not wanting to rush into a decision. He surprised Ebersol when he told him last week he was retiring.
Ebersol flew to California on Wednesday morning and spent 11 hours with Madden, trying to persuade him to change his mind. Ebersol even offered to allow Madden to call games only in September and November and to take October and December off.
"I knew right away there was no way of talking him out of it," Ebersol said. "I knew in his voice he really thought about this."
Madden was inducted into the Pro Football Hall of Fame in 2006.
"There is one thing football fans have agreed on for decades: they all love John Madden," NFL commissioner Roger Goodell said in a statement. "John was a Hall of Fame coach before becoming one of the most-celebrated personalities in sports. He had an incredible talent for explaining the game in an unpretentious way that made it more understandable and fun.
"John's respect and passion for the game always stood out. He was the ultimate football fan who also happened to be an extraordinarily talented coach and broadcaster."