John Madden
Sportscasting Legend
Remembered
(1936-2021)

by Lou Schwartz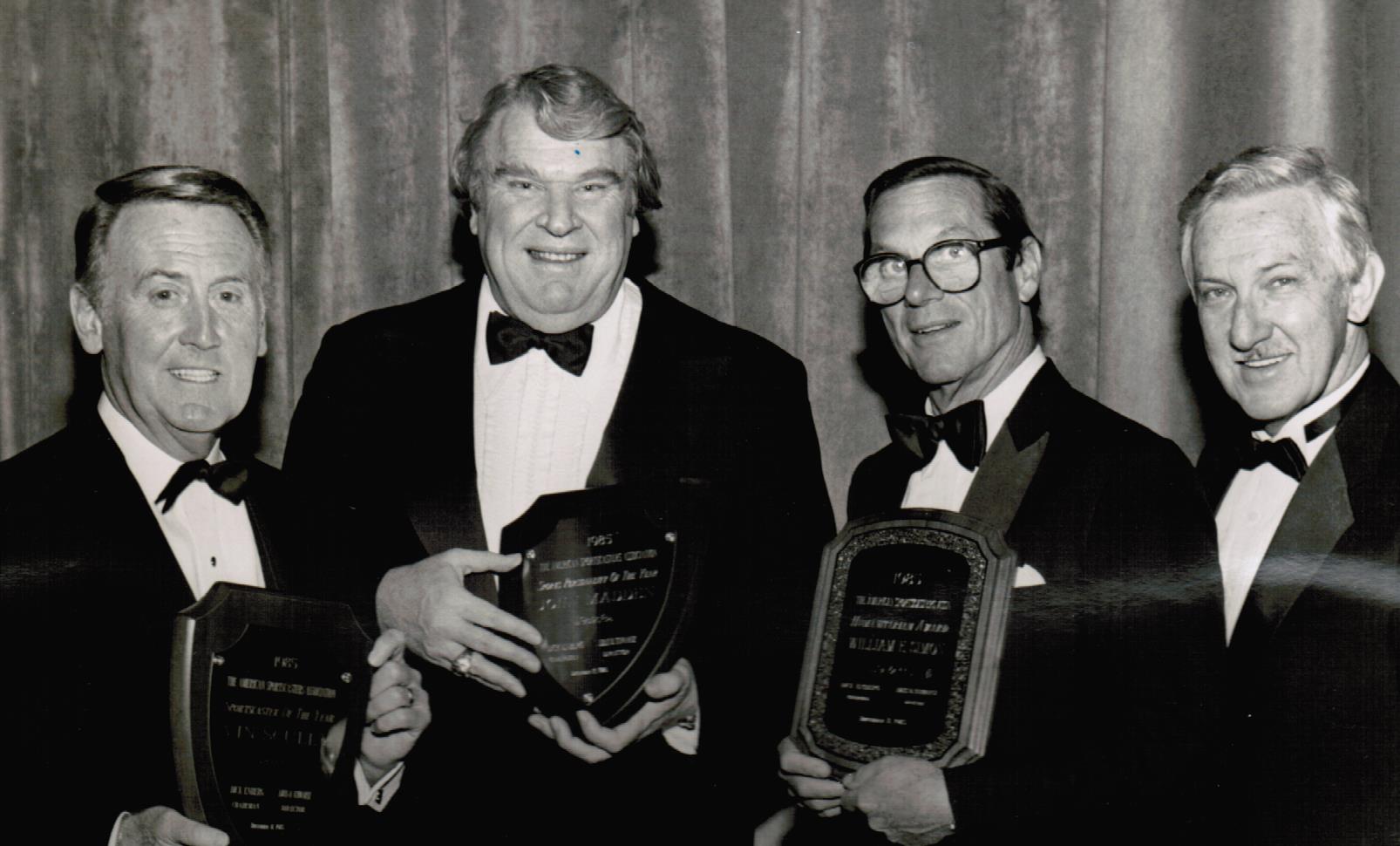 Hall of Fame inductee Vin Scully, Sports Personality John Madden Humanitarian Awardee William Simon and ASA President Lou Schwartz at the ASA's second annual Hall of Fame Dinner, 1985
FOR IMMEDIATE RELEASE
December 30, 2021 - The sports world is in mourning with the passing of legendary NFL coach and sportscaster John Madden, who died suddenly at the age of 85 on December 28, 2021.


Madden's notoriety was multi-generational. Whether you knew him as the grizzled coach of the Oakland Raiders, the legendary sportscaster on CBS and Fox, or the name sake of the wildly popular Madden football video game, his larger than life personality could not be denied.

Madden coached the "Silver and Black" from 1969-1978 and guided the team to a World Championship in 1977 at Super XI.  He then went on to become one of the most popular sportscasters of all-time alongside sportscasting icon and ASA Hall of Famer Pat Summerall for  over 20 years on CBS and Fox. Fans related to his simplistic but enthusiastic approach to analyzing a game and his catchphrases like "Boom!" or "Whap!" and use of the telestrator while breaking down a play.

Madden winded down his career on ABC's "Monday Night Football" and then on NBC's "Sunday Night Football"  pairing on both assignments with the great Al Michaels. His final call came in 2009 at Super Bowl XLIII. 
Let's not forget the video game empire that was created with Madden Football, which has sold over 250 million copies since its inception in 1988.

Back in 1985, I had the great honor to present John with the ASA's "Sports Personality of the Year"Award at our second annual Hall of Fame Awards Dinner. John was extremely humbled by the recognition and even poked fun at himself during his acceptance speech.

"I'm very grateful for this award. But the only way I got this award is they said, 'We have sportscasters here. We have broadcasters. We have Hall of Famers. The best people who have ever been behind a microphone. They're succinct, they say things in brevity and they look good. You can't have too many of those guys so we've got to balance it out. We need some fat, ugly guy and we'll call him something. We can't call him a broadcaster because that will upset the other guys that are really broadcasters like Dick Enberg and Vin Scully. So let's call him a personality.' So that's how I made it here tonight."

I can definitely attest to the fact that John is worthy of being called a sportscaster and quite frankly he was one of the best to ever do it. We'll miss you old pal.
                              *                    *                         *