Jim Kaat Thinks Joe Torre,
Dodgers Are Perfect Fit
by Ray McNulty,
Scripps Treasure Coast Newspapers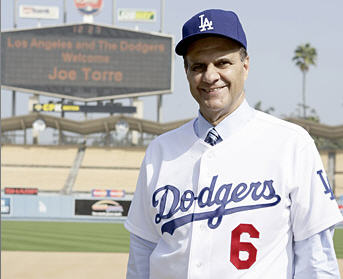 November 2, 2007 - At first, Jim Kaat said, he was surprised to hear that Joe Torre might be headed to Los Angeles to become the next manager of the Dodgers.
"I figured he'd take a year off and do some TV stuff, some speaking engagements, maybe some commercials," Kaat, who lives in Stuart, was saying Thursday from Panama City, the latest stop on a six-month motor-home trip that began in June. "So when I first heard the rumor about the Dodgers, I thought, 'Wow, I can't believe he's jumping right back in.' "
The more Kaat thought about the marriage of Torre and the Dodgers, however, the more it made sense to the should-be Hall of Fame pitcher who spent 50 years in baseball and more than a decade as a broadcaster for the Torre-managed New York Yankees before retiring after the 2006 season.
Not only is L.A. the right place for Torre — after his three-year, $19.2 million contract expired in New York, the Yankees offered him a new incentive-laden deal they knew he wouldn't accept — but Kaat also believes Torre is the right man for the Dodgers.
"He's perfect for that market," Kaat said, "and that market is perfect for him."
Apparently, Torre and the Dodgers think so, too.
Late Thursday afternoon, Torre accepted a three-year contract to manage the Dodgers, taking over a team that hasn't won a World Series since 1988.
"Joe is a big-market guy," Kaat said. "Coming from New York, where you're constantly in the spotlight and dealing with a lot of media, he knows how to handle all that. It always amazed me how he'd sit in that dugout and take questions for 30 minutes before every game, but he handled it like he was running for president.
"He's also got the star power they love in L.A. He did some TV work for the Angels, so he's familiar with the area. And don't forget this: He grew up watching the Dodgers in Brooklyn."
Kaat said he was walking through a New Mexico state park two weeks ago when he heard that Torre, who made $7.5 million this past season, had rejected the Yankees' one-year, $5 million offer, which also included $3 million in performance bonuses.
So he pulled out his cell phone and called Torre's home in New York. After their conversation, Kaat fully understood why Torre, who guided the Yankees to 12 playoff appearances, six American League pennants and four World Series championships in 12 years, felt insulted by the offer.
"To be honest, I was puzzled by the Yankees' offer," Kaat said. "They made him an offer he couldn't accept. Can you imagine, during his last few years in Miami, the Dolphins asking Don Shula to come back for less money? Then telling him if he's successful, he'll get more money? Guys like Don Shula and Joe Torre don't need that. They don't need any financial incentives to want to win.
"But we all know what the Yankees were doing. It was all a PR move. They didn't want it to look like they were firing him."
The Yankees' loss, though, might be the Dodgers' gain.
Kaat said Torre's strength as a manager is "handling players and making them feel comfortable." And those assets can only help the Dodgers, who have a promising blend of young talent and veteran experience but who were unable to stay in the playoff chase with Arizona, Colorado and San Diego in the National League West.
"If Joe can put together the right staff — maybe get Don Zimmer and Don Mattingly to come with him — he'll do a good job there," Kaat said. "He obviously has a burning desire to stay in the game. He knows how to manage. He was originally a National League guy.
"So this could be a great situation for him. And I'm sure, after the way things ended in New York, he wants to prove he can get the Dodgers to the top.
"Knowing Joe the way I do," he added, "I wouldn't be the least bit surprised if he does."