Joe Buck

ASA Lifetime Member
Leaves Fox for ESPN's
"Monday Night Football"

by Lou Schwartz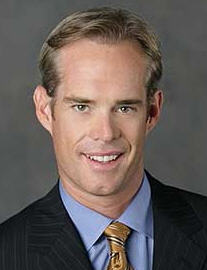 FOR IMMEDIATE RELEASE


March 21, 2022 - It's an end of an era at Fox as Joe Buck, the network's No. 1 football and baseball announcer for over 25 years, has left to become the voice of ESPN's "Monday Night Football".

The blockbuster move comes just weeks after his longtime partner, Troy Aikman, announced he would be leaving for ESPN. The two had been the top announcing team at Fox since 2002.
With his longtime boothmate and friend gone, there was speculation that Buck would join Aikman at ESPN  next year after his contract expired, but the two sides were able to work out a deal that allowed Buck to leave early.

Buck, a Lifetime ASA Member, is excited to take the next step in his broadcasting career. Not to mention follow in the footsteps of his father, ASA Hall of Famer Jack Buck.

"Everything about Monday Night Football, including the broadcast, set the standard for the modern NFL experience," Buck said in a news release. "Some of my earliest memories include walking around football stadiums and tagging along with my dad as he called Monday Night Football on radio.  To return to the stadium on Monday nights with Troy – who I have the utmost comfort with and confidence in – and begin a new chapter, for us and ESPN, has me excited about this season and our future."

Fox will also be in the market for a new baseball voice, as Buck has called MLB for the network since 1996, including a record 24 World Series.

It was reported that ESPN gave Buck a five-year, $75 million deal, while Aikman received a five-year, $90 million contract. ESPN has been struggling for several years to find an identity for its MNF broadcast team so this move surely gives them the recognition and credibility it so desperately needs.
*                               *                                   *