Joe Buck Accomplishes
Rare Double Assignment
by Lou Schwartz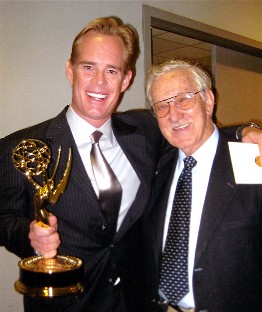 Joe Buck and Lou Schwartz at the 2012 Sports Emmy Awards

October 17, 2012 - Joe Buck, veteran Fox Sports announcer and ASA Lifetime member, worked a unique double header this past Sunday, calling the late afternoon NFL game between the San Francisco 49ers and New York Giants, and the nighttime NL championship series opener between the San Francisco Giants and St. Louis Cardinals.

In years past, Buck, who is the No. 1 baseball and football announcer for Fox, would normally take a break from his NFL duties to work the MLB postseason games. But when the situation presented itself that the two games would take place in the same city, Fox knew they could count on their top voice to handle both assignments.

"It's fun, it's different, it's unique. So let's go for it and see what happens," stated Buck, as he embarked for the first of his two assignments.

Buck left Candlestick Park at 4:32 p.m., after the Giants beat the 49ers 26-3. He arrived after the 7-mile trip at AT&T Park at 5:04 p.m., 10 minutes before the first pitch of the Cardinals' eventual 6-4 victory over the Giants. Buck even made the trip from game to game in the most San Francisco way possible, on a trolley.