Joe Torre, ASA Member, Elected to the
Baseball Hall of Fame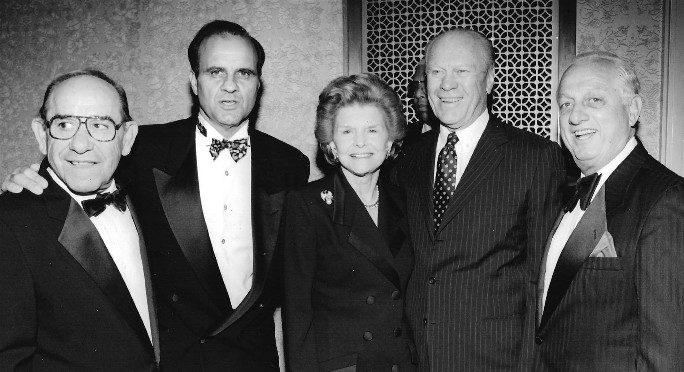 Joe Torre (second from left), joined by Yankee Great Yogi Berra, President and Mrs. Gerald Ford, and legendary L.A. Dodgers Manager Tommy Lasorda at the ASA's 10th annual Hall of Fame Dinner - November 30, 1994

December 9, 2013 - Joe Torre, ASA member and longtime manager of the New York Yankees who guided his team to four World Championships, was elected to the Baseball Hall of Fame by the Hall's Expansion Era Committee. The announcement came today by Hall of Fame Chairman Jane Forbes Clark at the start of baseball's annual Winter Meetings in Orlando, Fla. Torre will be joined by fellow managing greats Bobby Cox and Tony La Russa.

Torre, Cox and La Russa were named on all ballots of the 16-member panel which was comprised of Hall of Fame members Rod Carew, Andre Dawson, Carlton Fisk, Whitey Herzog, Tommy Lasorda, Paul Molitor, Phil Niekro and Frank Robinson; major league executives Paul Beeston, Andy MacPhail, David Montgomery and Jerry Reinsdorf; and veteran historians Steve Hirdt, Bruce Jenkins, Jack O'Connell and Jim Reeves.

Torre led the Yankees to six AL pennants and four World Series titles (1996, 1998-2000) in his 12 seasons in New York, and also managed the Mets, Braves, Cardinals and Dodgers – winning one division title with Atlanta and two with Los Angeles. His 2,326 wins in 29 seasons rank fifth on the all-time list, and was twice named Manager of the Year (1996, 1998). In his final 15 seasons as a manager, Torre led his clubs to the post-season 14 times.
From 1985-1990, Torre took a break from his managerial duties when he worked as a TV analyst for the California Angels and for NBC on their "Game of the Week" telecasts. He also spent 18 seasons as a big league catcher/third baseman, earning nine All-Star Game selections and winning the 1971 NL Most Valuable Player Award.
Currently, Torre is the Executive Vice President for Baseball Operations for Major League Baseball.
Cox skippered the Braves and Blue Jays for 29 seasons, leading his teams to 15 first-place finishes. He led the Braves to five National League pennants and a World Series Title in 1995.
La Russa managed the White Sox, A's and Cardinals for 33 seasons, winning 2,728 games. He accumulated six pennants and three World Series titles – one with the A's (1989) and two with the Cardinals (2006 and 2011).

Also being announced this week at the Winter Meetings will be the winner of the J.G.Taylor Spink Award for meritorious contributions to baseball writing (Dec. 10) and the Ford C. Frick Award winner (Dec. 11), given for excellence in baseball broadcasting.

Hall of Fame Weekend 2014 will be held July 25-28 in Cooperstown, NY. Torre, Cox and La Russa will be joined by any electees who emerge from the Baseball Writers' Association of America voting, which will be announced on Jan. 8.
*                   *                          *