Joe Starkey Begins 40th Season as Voice of Cal Football

by Patrick Turturro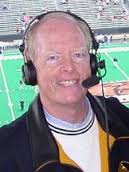 August 29, 2014 - With the start of the 2014 college football season upon us, ASA member Joe Starkey will celebrate a very special milestone. This year will mark his 40th as the radio play-by-play voice of California Golden Bears football.

As Starkey prepares for tomorrow's season opener against Northwestern, he will surely think back to all the memorable moments he has provided the soundtrack to since arriving at UC Berkeley in 1975. But none will stand out like his frenetic call of "The Play" during the 1982 "Big Game" between Cal and Stanford.

With seconds left to play, Cal returned the kickoff for a touchdown using five laterals as the Stanford band, thinking the game was over, poured out onto the field. 

"...Oh, the band is out on the field!, Starkey exclaimed. " He's gonna go into the end zone! He got into the end zone!...And the bears! The bears have won! The Bears have won! Oh, my God! The most amazing, sensational, dramatic, heart-rending... exciting, thrilling finish in the history of college football! California has won the Big Game over Stanford! Oh, excuse me for my voice, but I have never, never seen anything like it in the history of I have ever seen any game in my life!"

Starkey's resume also includes 20 years as the radio play-by-play voice of the San Francisco 49ers, Sports Director of KGO Radio and the first telecaster of the NHL's San Hose Sharks.   

Among his many honors, Starkey was named "California's Best Play-by-Play Broadcaster" nine times by the Associated Press, and was inducted into the  Bay Area Radio Hall of Fame in 2009.

In recognition of his distinguished college broadcasting career, Starkey was honored with the Chris Schenkel Award by the National Football Foundation in 2010.
*                         *                                  *