Ron Jaworski Leaves 'Monday Night Football,' Stays with ESPN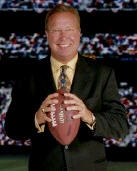 Vinny Iyler, Sporting News
NFL analyst Ron Jaworski has received a five-year contract extension from ESPN, but the network announced on Wednesday that he no longer will be part of the "Monday Night Football" broadcast.
While MNF will now feature a two-man booth with ASA member Mike Tirico doing play-by-play and Jon Gruden as the sole color commentator, Jaworski is transitioning to a "multiplatform role." According to ESPN, it's only the sixth time in the show's 42-year history that it won't feature a three-man booth. Previously, when the network aired Sunday Night Football, Mike Patrick worked exclusively with Joe Theismann from 1988-97.
Jaworski will still be visible on ESPN on all its studio shows and specials. He has embraced his extension and his new position.
"I am grateful for having the once-in-a-lifetime opportunity of working on Monday Night Football the past five seasons with Mike Tirico, Jon Gruden and so many other talented people behind the scenes who make the show so great, and I look forward to bringing my passion and knowledge of the game to more fans in more places than ever before on any and all football topics," Jaworski said in a statement.
With both Jaworski, a former Philadelphia Eagles quarterback, and Gruden, a Super Bowl-winning head coach with the Tampa Bay Buccaneers known for his offensive acumen, there was plenty of talk about the passing games featured on MNF. That came with a share of on-air disagreements regarding teams' QB situations. The separation should end up helping each analyst's overall work.
"I thank Ron for the great contributions he has made to Monday Night Football and look forward to the many ways he will enhance our studio presentation from our NFL-branded shows to SportsCenter," ESPN president John Skipper said in the statement. "With two strong analysts in Ron and Jon, these moves will better utilize their strengths and benefit our entire NFL presentation."