Jack Snow, ASA Member and Voice of the St. Louis Rams, Dies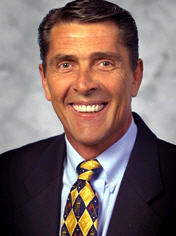 St. Louis Rams radio analyst and former wide receiver Jack Snow, died on Monday, January 9, 2006, after struggling with complications from a staph infection for the better part of the past month. He was 62.
Snow, a longtime member of the ASA, played 11 years for the Rams after being selected in the first round of the 1965 NFL Draft by Minnesota. He was traded to the Rams soon after and finished his career with the team. In his 11 seasons, he posted 340 receptions for 6,012 yards and 45 touchdowns.
He played his college ball at Notre Dame, where he was a member of the College All Star team in 1965 and a consensus All American in 1964. He finished fifth in Heisman Trophy voting that year.
Snow's best professional season came in 1970, when he posted 51 catches for 859 yards with seven touchdowns.
Snow, who retired after the 1975 season, served as wide receivers coach for the Rams in 1982. It was around that time that he turned his sights to broadcasting. He joined the Rams as a radio analyst in 1992 while they were still in Los Angeles and accompanied them in their move to St. Louis three years later.
Snow was born on January 25, 1943 in Rock Springs, Wyoming and grew up in Long Beach, California. He was named all-City Lineman of the Year in 1960 at St. Anthony in Long Beach.
Snow is survived by three children, daughters Michelle, Stephanie and son J.T., who plays professional baseball.