Jack Whitaker
ASA Hall of Famer and
Legendary Sportscaster
Remembered
1924 - 2019



by Lou Schwartz
Jack Whitaker
FOR IMMEDIATE RELEASE
August 19, 2019 - Jack Whitaker, ASA Hall of Famer and legendary sportscaster at CBS & ABC Sports, died of natural causes on August 18, 2019. He was 95.


Whitaker, the 1997 ASA Hall of Fame inductee,  began his sportscasting career as a sports anchor at Philadelphia's WCAU-TV in 1951. In 1961 he joined CBS Sports where he covered thoroughbred racing's Triple Crown Events, golf's four major championships, and everything from the Super Bowl I, to the U.S. Open, to heavyweight championship fights. He also announced NASL soccer, AAU track and field championships and major league baseball, and was the host of the anthology series, "Sports Spectacular."

Whitaker moved to ABC in 1982 where he served as a reporter for both the news and sports divisions. He was a part of ABC's coverage at the 1984 Winter and Summer Olympic Games and the 1988 Winter Games. He also reported for ABC's "World News Tonight," "Nightline," and "20/20."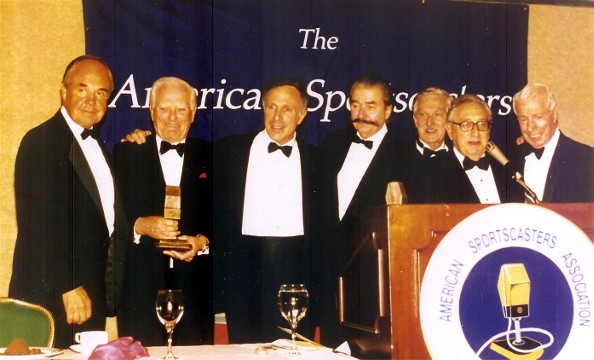 Dick Enberg, Jack Whitaker, Ron Shapiro, LeRoy Neiman, Lou Schwartz, Dr. Henry Kissinger and Joe DiMaggio at the ASA Hall of Fame Dinner
During his induction at the ASA Hall of Fame Dinner in 1998, Whitaker spoke about his love of radio and the announcers that came before him. "Radio was the internet of my youth, and it was the voices like Curt Gowdy, Mel Allen, Red Barber, Jack Brickhouse, Chuck Thompson and Edward R. Murrow and his merry band that lured me into broadcasting," Whitaker stated.

He also offered some advice for those looking to become a sportscaster.
"I would not hesitate to inform every young man and woman who wants to get into this business to go ahead," Whitaker said. "It's a wonderful business. However, there are two things you have to know. You must love the sport you are covering and respect its rules and history. Also, you must remember that they are only games and treat them as such."

During the award presentation, fellow ASA Hall of Famer Curt Gowdy described Whitaker as "one of the greatest sports essayists in the business whose command of the English language is second to none." He also described his broadcasts as "sheer poetry."
Don Dunphy and Curt Gowdy present Hall of Fame Award to Jack Whitaker at the ASA Hall of Fame Dinner
Among his many honors, Whitaker was named "Best Announcer" by Sports Illustrated in 1976 won an Emmy Award for "Outstanding Sports Personality" in 1979.  Whitaker was also honored by his alma mater, St. Joseph's University in his native Philadelphia with an honorary Doctor of Arts degree. In 2012, Whitaker received the Lifetime Achievement Award from the National Academy of TV Arts and Sciences.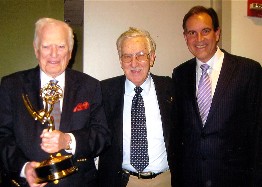 Lou Schwartz and Jim Nantz congratulate Jack Whitaker on receiving the Lifetime Achievement Award at the Sports Emmy Awards