Costas: Axing 'Inside the NFL' a 'Boneheaded' Move
by Michael Hiestand, USA Today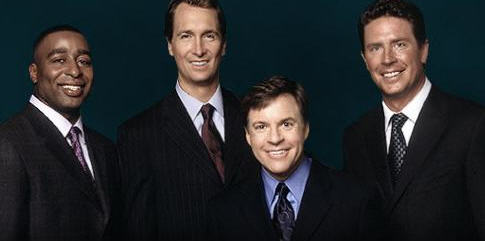 Bob Costas assured his colleague Cris Collinsworth that they hadn't been axed: "Just because somebody made a boneheaded decision to discontinue one of the best and longest shows on television, that doesn't mean any of us got fired."
That somebody is HBO Sports President Ross Greenburg who euthanized HBO's 31-year-old Inside the NFL on Wednesday, just before what turned out to be its final episode — where Costas bravely, considering he still has his Costas Now show on HBO, offered up his "boneheaded" verdict.
That show will be replayed relentlessly through the weekend via HBO's normal recycling. And the series itself might even resurface. The NFL owns it and is now shopping it around — but it likely wouldn't be the same, since HBO staffed and produced it.
Greenburg says the show, which debuted in 1977 in Philadelphia hosted by local sportscasters Al Meltzer and Chuck Bednarik, wasn't killed just to save cash: "Financials may have been taken into account, but that was a minor consideration."
Instead, Greenburg, who's been with HBO since 1978, blames evolution: "We've seen the proliferation of so many highlight-driven football shows, on TV, online, on-demand. … There's no real explanation, just a lot of discussions over the years that the marketplace changed and we're not unique anymore."
The show, which featured Len Dawson and Nick Buoniconti for 23 years as well as Jerry Glanville and Jimmy Johnson in the 1990s, didn't offer unique voices. Other than Cris Carter, regulars Costas, Collinsworth, Peter King and Dan Marino have broadcast network gigs. And where midweek NFL TV yak/highlights was once novel, now it's omnipresent.
Still, HBO — as a premium service that doesn't run ads and thus doesn't need to worry much about ratings — can go beyond TV norms that constrain others.
Greenburg, noting HBO hopes to continue its behind-the-scenes Hard Knocks shows about NFL training camps, says he would "like to explore more programming with the NFL." Maybe HBO could have NFL players show up on its Cathouse series or, in a spinoff of its TaxicabConfessions, take them on videotaped late-night rides in stretch limos. Maybe Larry David, in some rollicking CurbYour Enthusiasm episodes, could play an NFL team strength coach.
Too bad HBO blew a final opportunity: As Costas & Co. ruminated on Wednesday's show, HBO should have abruptly cut to a black screen.