"Hot Rod" Hundley, Longtime Voice of the Utah Jazz, Dies

by
Lou Schwartz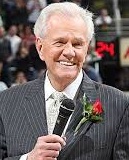 April 2, 2015 - "Hot Rod" Hundley, former college basketball All-American and Voice of the Utah Jazz for 35 years, died on March 27th at his Phoenix area home. He was 80. The cause of death was not disclosed but Hundley had been battling Alzheimer's disease in recent years.

A standout player at West Virginia University, Hundley earned his nickname for his on-court antics including dribbling behind his back, spinning the ball on his finger and taking hook shots at the free throw line. He was drafted first overall by the Cincinnati Royals and immediately dealt to the Minneapolis Lakers. In a career cut short by knee injuries, Hundley played six seasons with the Lakers in Minneapolis and Los Angeles, before setting his sites on broadcasting.

After stints with the Phoenix Suns and Los Angeles Lakers, Hundley joined the New Orleans Jazz in their inaugural season in 1974. He made the move with the team to Salt Lake City in 1979 and went on to broadcast 3,051 Jazz games until his retirement in 2009. Among his many catchphrases and colorful descriptions was his signature call, "You gotta love it baby!," which was also the title of his 1998 auto-biography. In Hundley's honor, the Jazz announced they will wear a commemorative black stripe on their jerseys for the remainder of the season.
   
ASA member and longtime voice of the Phoenix Suns Al McCoy has fond memories of Hundley when the two shared the booth for four seasons.

"When I became the play by play voice of the Phoenix Suns 43 years ago, my side kick and color man was Hot Rod Hundley," McCoy said. "He had worked with Chick Hearn in Los Angeles prior to joining the Suns and Rod was the best.  He loved basketball and with his great personality he brought that enthusiasm into the game broadcasts .  No one could spend five  minutes with Rod and not have a better day. He loved life and loved people.  Certainly having known and worked with Rod has been special for me."
McCoy will be speaking at a special "Celebration of Life" ceremony for Hundley in Phoenix on April 4th.
   
Among his many honors, Hundley received the Curt Gowdy Media Award from the Naismith Memorial Basketball Hall of Fame in 2003, becoming the only former professional player to achieve such an honor.
*                          *                                *