Legendary Tigers Announcer Ernie Harwell has Inoperable Cancer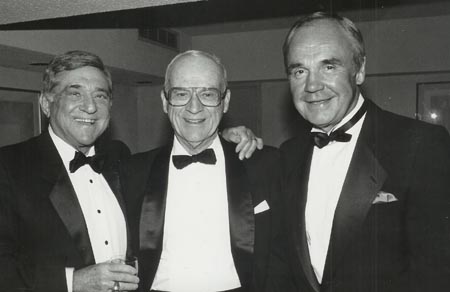 ASA Hall of Famer Ernie Harwell (c.) with Metropolitan Opera star Robert Merrill (l.) and ASA Chairman Dick Enberg
AP- DETROIT (Sept. 4) - Ernie Harwell, the 91-year-old Baseball Hall of Fame honoree and longtime broadcaster for the Detroit Tigers, said Friday that he has inoperable cancer. Harwell told The Associated Press he knows he'll go through some painful days, but is in good spirits and appreciates the good wishes he's received from hundreds of fans.
"I guess they (listeners) got used to me, good or bad," Harwell said in a telephone interview from his home in suburban Novi. "It's a great honor to be part of the family like that. So-called fame is fleeting."
The ASA Hall of Famer said he began feeling ill this summer. He had surgery last month for an obstructed bile duct. Doctors found a cancerous tumor and several days ago advised him against further surgery.
"They told us what the situation was," he said. "We trusted their judgment."Before going out to lunch with his wife and daughter, Harwell said he feels well for now and plans to continue work on a book and other projects.
Besides spinning yarns about baseball legends from Ty Cobb to Mark McGwire, Harwell brought a bit of flair to calling the games. "He stood there like the house by the side of the road," he might say of a batter taking a called third strike.
Foul balls into the stands were always, "Caught by a man from (whatever small town came to mind)." A home run was, "Long gone!"
Harwell spent 42 of his 55 years as a broadcaster calling Tigers games, from 1960 to 2002. He said he has been "flattered" to hear so many people tell him about the role his voice played in their lives.
Harwell laughed about women who told him they fell asleep to his voice, saying it showed the his ability to "cure insomnia."
"Yeah, they went to sleep with me, but they woke up with J.P. McCarthy," a longtime WJR-AM morning host, Harwell said.
Harwell was born Jan. 25, 1918, in Washington, Ga., and began his broadcasting career in 1940 as a sports commentator for WSB radio in Atlanta.
After serving in the Marine Corps in 1942-46, Harwell was the minor league Atlanta Crackers' radio voice in 1946-48 and went to the Brooklyn Dodgers after the team's radio broadcaster, Red Barber, fell ill in 1948.
Harwell was honored by the Baseball Hall of Fame in 1981 and the Sportscasters and Sportswriters Hall of Fame in 1989.
He recently helped lead unsuccessful efforts to save Tiger Stadium, home of the team until it left for Comerica Park after the 1999 season. Demolition began in 2008 and is expected to finish this fall.
As much as anything, the outpouring of support following news of his illness is a sign of the magic that radio sports still has for so many people, Harwell said.
"I think this response is an example of the impact of baseball and of the Tigers," he said, adding whatever talent he may have, "God put me here."
"Whatever happens, I'm ready to face it," he said. "I have a great faith in God and Jesus."