ESPN's Hannah Storm
Returns After Accident

by Alexis Shaw, abcnews.com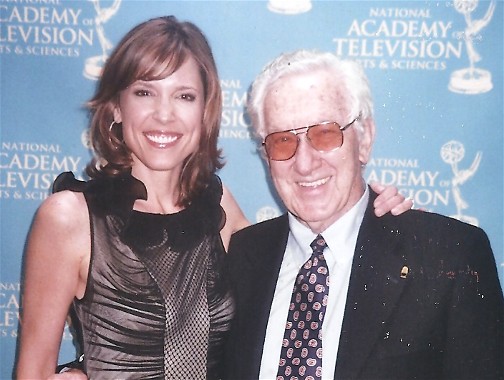 Hannah Storm and ASA President Lou Schwartz at the 2009 Sports Emmy Awards, New York City

January 2, 2013 - Just three weeks after suffering serious burns in an accident at home, ESPN anchor Hannah Storm returned to television to host the 124th Rose Parade in Pasadena, Calif. on New Years' Day.

Storm, who has been an anchor of ESPN's "SportsCenter" since 2008, shared hosting duties for the parade with "Good Morning America" anchor Josh Elliott. He opened the broadcast by welcoming her back on the air.

"The best medicine is being here with you, my friend, for the fifth year in a row," Storm said to Elliott.

Storm, voted No. 5 on the American Sportscasters Association's list of the "Top 15 Women Sportscasters of All-Time," thanked the staff of the Trauma and Burn Center at New York's Westchester Medical Center for helping her recover.

She lost her eyebrows, eyelashes, and roughly half of her hair while she was making dinner for her family outside on the gas grill at her Connecticut home on Dec. 11.

When Storm realized the flame on the grill had gone out, she turned the gas off, and then on again. As she did, there was an explosion.

 "A wall of fire like something you see in a movie, it came right at me and then I looked down and I saw that I was on fire," Storm told ABC News. "So I yelled inside to my daughter, 'Mommy is on fire. Call 911.'"

"She's so nonplussed. Nothing fazes her," Storm said of her teenage daughter. "To have a calm person like that, in that kind of situation is unbelievable. My other daughter who was home was so terrified. She couldn't even look at me. She was huddled with our dog in another room."

Storm suffered first-degree burns to her face and neck, as well as second-degree burns on her chest and hands.

"What I saw in the mirror was scary. I looked completely disfigured," Storm said. "God bless the nurse who cut all my hair off."

"This is all fake," she said, pointing to her hair extensions. "As is all this eyebrows and eyelashes and everything."

Storm's left hand was still bandaged at Tuesday's parade, preventing her from taking notes since she is left-handed. She said she wore hair extensions on the air, but other than that, viewers saw few changes from the way she looked a month ago. She has said that showering and dressing are challenging.

"I mean I had my kids changing my bandages...leaving little sticky notes, you know, this is when you take this pill mommy. My middle daughter, you know, washing my hair for me," Storm recalled of her recovery.

Since the accident, Storm has attended Christmas Eve Mass, but other than that, the trip to California for the 2013 Rose Parade was her first major trip outside since leaving the hospital.

"Can't begin to thank you all enough for your kindness and support. Getting ready for #RoseParade with @JoshElliottABC. Happy New Year!" Storm tweeted before the parade began.