Graham McNamee, ASA Hall of Famer, Named Recipient of the
2016 Ford C. Frick Award

by Lou Schwartz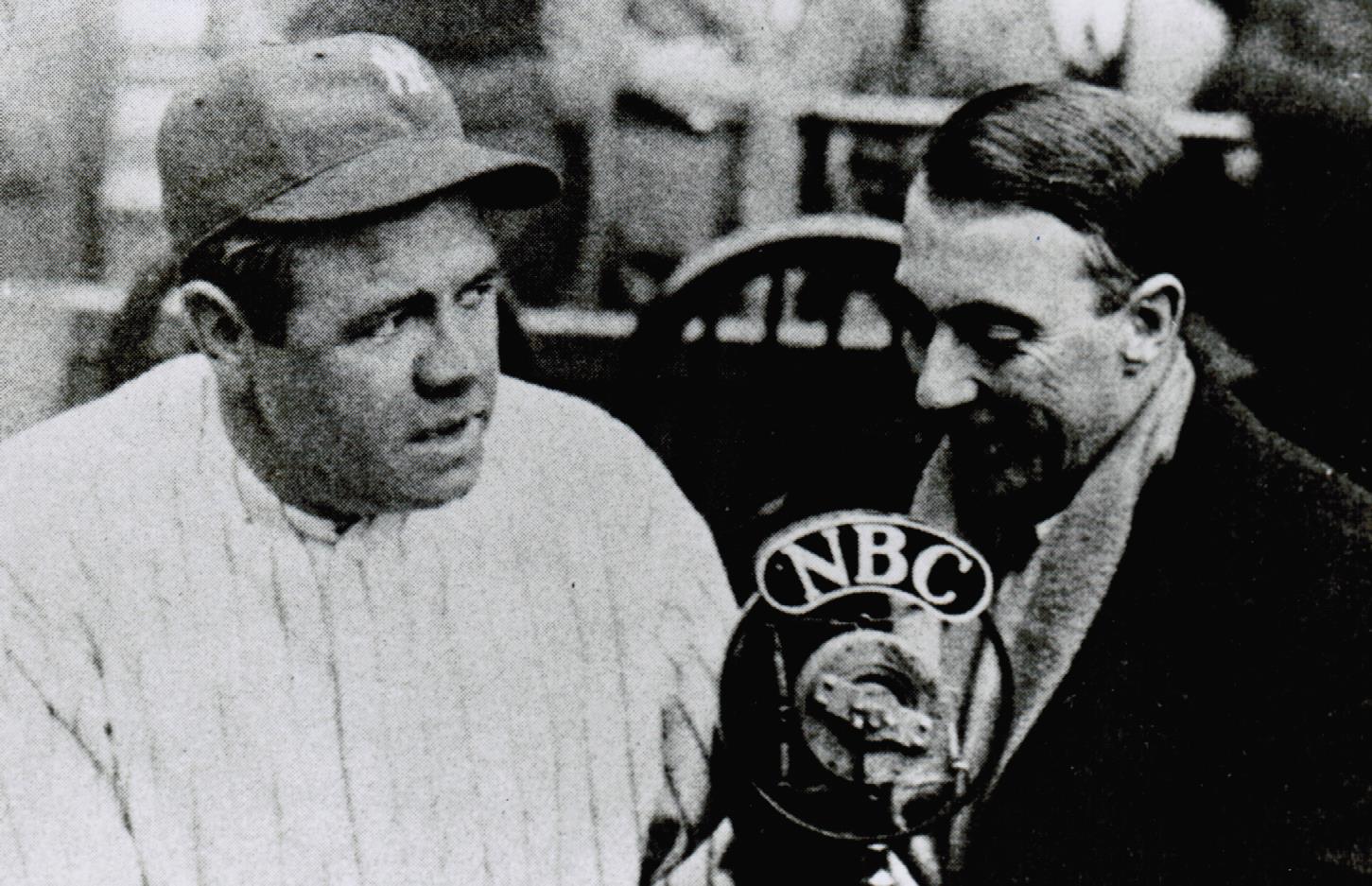 Graham McNamee interviewing Babe Ruth at the 1923 World Series

FOR IMMEDIATE RELEASE
December 10, 2015 - Graham McNamee, ASA Hall of Famer and sportscasting pioneer, has been named the recipient of 2016 Ford C. Frick Award by the Baseball Hall of Fame. The announcement was made on December 9 during baseball's annual Winter Meetings in Nashville, Tenn.
 
Live sports broadcasting as we know it today began in 1923 when a young Graham McNamee, broadcasting directly from the Polo Grounds in New York City, reported the World Series between the Yankees and the Giants. The experiment was so successful that Chicago radio station WMAQ was inspired to pioneer daily broadcasts directly from the ballpark. McNamee would go on to broadcast every Fall Classic until 1934 as well as the first four All-Star games starting in 1933.

McNamee set many broadcasting standards throughout a lengthy career which spanned from 1923 until his death in 1942. His vivid descriptions of the events which took place before the live microphone were characterized by a combination of informality and warmth that appealed greatly to his listeners.

McNamee was part of the ASA's inaugural Hall of Fame class in 1984 which included fellow sportscasting pioneers Red Barber, Don Dunphy, Ted Husing and Bill Stern. During the event, ASA Chairman Dick Enberg referred to him as "The father of us all."

Originally a concert singer,  he was also the inspiration for the ASA's Graham McNamee Award, which is given to a sportscaster who has achieved excellence in another field. The first recipient of the award was President Ronald Reagan, who was known as "Dutch" Reagan when he recreated Chicago Cubs' games for WHO Radio in Des Moines, Iowa. ASA President Lou Schwartz, along with Howard Cosell, Don Dunphy and former Madison Square Garden Chairman Sonny Werblin were invited to the White House and made the presentation to President Ronald Reagan himself.

Among the many great  moments in sports history that he broadcast,  McNamee ranked three as among the most memorable: the fabled long count of the Dempsey-Tunney fight in 1927; the comeback of Philadelphia Athletics pitcher Howard Ehmke in the 1929 World Series; and the Babe Ruth home run in the 1932 World Series.

McNamee will be honored posthumously at the annual Baseball Hall of Fame Induction Ceremonies on July 23 in Cooperstown, NY.
*                        *                          *