Curt Gowdy, Legendary Sportscaster & ASA Vice President, Dies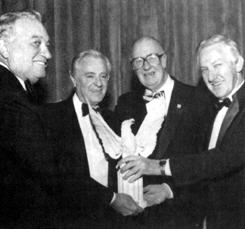 (l. to r.) The 1985 ASA Hall of Fame Inductees Mel Allen, Curt Gowdy and Jack Brickhouse with ASA President Lou Schwartz

Curt Gowdy, legendary sportscaster and Vice President of the American Sportscasters Association, died on February 20, 2006, of leukemia. He was 86.
Well-known as the longtime "voice" of the Boston Red Sox, Gowdy made his broadcasting debut in 1944 in Cheyenne, Wyoming in a high school football game. His distinctive play-by-play style during his subsequent broadcasts of baseball and basketball in Oklahoma City earned him a chance with the New York Yankees and Mel Allen in 1949. In 1951 Gowdy became lead announcer for the Red Sox, a position he held for the next 15 years.
Gowdy's numerous network television assignments, first for ABC and later for NBC and CBS, ran a wide range of sports, earning him the somewhat derisive nickname of the "broadcaster of everything". He called play-by-play for professional and collegiate football, covering the American Football League throughout its ten-year reign and continuing as a lead announcer after the AFL's merger with the National Football League in 1970. Over the course of a career that stretched into the 1980s, he also covered Major League Baseball and college basketball; called 13 World Series, 16 baseball All-Star Games, 9 Super Bowls, 14 Rose Bowls, 8 Olympic Games and 24 NCAA Final Fours; and hosted ABC's long-running "American Sportsman" series.
In 1970 Gowdy became the first sportscaster to receive the George Foster Peabody Award. He was the recipient of the Ford C. Frick Award from the Baseball Hall of Fame in 1984 and was inducted into the ASA Hall of Fame in 1985. In 1992 Gowdy received both the Pete Rozelle Award from the Pro Football Hall of Fame and a lifetime achievement Emmy. He was selected to the Boston Red Sox Hall of Fame in 1995. Gowdy was president of the Basketball Hall of Fame for several years, and that institution's Curt Gowdy Award (presented annually to outstanding basketball writers and broadcasters) is named after him.
In 1963 Gowdy purchased WCCM and WCCM-FM in Lawrence, Massachusetts, later changing the FM station's calls to WCGY. Gowdy also owned several radio stations in Wyoming, before selling his broadcast interests in 1994.