Tony Kubek, Peter DiMaggio and Lou Schwartz among those at Curt Gowdy Funeral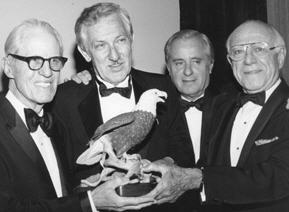 (l. to r.) "The Voice of Boxing" Don Dunphy accepts the Hall of Fame Award from ASA President Lou Schwartz, ASA Vice President and legendary sportscaster Curt Gowdy, and former Chairman of Madison Square Garden Sonny Werblin at the First Annual ASA Hall of Fame Dinner - 10/30/84
(The following article appeared in The Boston Globe on February 26, 2006.)
Alan Simpson, the former US senator, was driving with Curt Gowdy a few years ago along Interstate 80 in their home state of Wyoming when they passed a sign for Curt Gowdy State Park.
''He said, 'Look at that, Simpson. And they haven't even named a rest stop after you,' " the senator recalled yesterday to peals of laughter during Gowdy's funeral at Trinity Church.
On a day when the whipping wind made Copley Square feel uncomfortably like the Wyoming high plains where Gowdy made his broadcasting debut in 1943, friends and family gathered yesterday to bid adieu to the erstwhile voice of the Red Sox, who died of leukemia Monday at 86.
''My father had a deep respect for all people," said Gowdy's son Curt Jr. ''As his Dad would often say, 'Curtis, you may be sitting next to a bum or a millionaire; there's really no difference. Treat them with the same respect.' "
Inside Trinity Church, a mourner wearing a Red Sox jacket sat a few pews away from another draped in a fur coat, united by their memories. Most of the more than 300 people at the service were old enough to have listened when Gowdy broadcast Red Sox games for 15 years, beginning in 1951.
''He always told me how lucky he was to have lived the life he had," said Curt Jr., who added later, ''He was a superstar in the world of broadcasting, but he never let it go to his head. He was the most humble man I've ever known. He'd always say, 'I just want to be remembered as a pro.' "
Gowdy won a shelf full of Emmys and a Peabody Award in his broadcasting career. He called World Series games, Super Bowls, the Olympics, and the NCAA Final Four. The funeral procession to the church passed outside Fenway Park, where a ''Thanks, Curt" banner hung and fans stood to pay their respects.
''He had a special relationship with ballplayers, as he had with fans, as he had with the front-office people," said Red Sox CEO Larry Lucchino. ''He was an open, available, uncle-like personality, and I think that is special. Baseball fans appreciate that."
''He was the best in my mind because he was the best, truest, most loyal and most honest friend a person could have," said Tony Kubek, Gowdy's former broadcasting partner, ''and that's the most important thing."
During the service, Gowdy's three children -- Curt Jr., Trevor, and Cheryl Ann -- each offered words of remembrance.
''I guess if there's another world, my father lives in bliss," Trevor Gowdy said. ''If not, then he made the most of this."
He noted that his father turned fly-fishing, his great passion, into a metaphor. ''He treated it as more than a sport," his son said. ''He turned it into a lesson for us about life." Among the lessons gleaned from those hours at the river were choosing wisely, ''patience with all people, no matter what the circumstances were," and how to treat each accomplishment. For Gowdy, that meant placing the fish, once caught, back in the river.
''The release: to admire your opponent, to pay respect, to release it to fight another day," Trevor Gowdy said. ''It was a lesson in attitude, in great sportsmanship, and how to always put something back on the plate of life."
1. One of Gowdy's good friends was Ted Williams, the Red Sox great who was also devoted to fishing. ''He taught me how to bat and fish with his friend, Ted Williams," Cheryl Ann Gowdy said.
Outside the church after the service, Larry Rawson of New York said he grew up in Newton, and did his homework while listening to Gowdy's Red Sox broadcasts on the radio. ''You wanted him in your house; you wanted him in your car," he said. Younger generations, he added, may not grasp the impact Gowdy had in the days before cable television.
''In a sense, he was Bob Costas and Jim Nantz and Al Michaels kind of all rolled into one," he said. ''He was the man, so to speak."
Rawson, who works for ESPN as a track and field commentator, said he cohosted the 1983 Boston Marathon with Gowdy.
''He said, 'You should be doing network television,' " Rawson recalled. ''He was pivotal in helping me during my career even though we only worked together once."
Though most at the service wore black, Mary Thawley of Boston sported a bright Red Sox jacket and a T-shirt from the 1975 World Series.
She said the last time she saw Gowdy was in April, on Opening Day 2005 after the Sox had won the World Series for the first time in 86 years the previous October. He was wearing his big cowboy hat, she recalled, and they crossed paths as they were entering Fenway through Gate A. ''The Red Sox finally made it," she exclaimed. Gowdy, she said, beamed. ''He said, 'Yeah we finally did it.' "
''So God has come to take him back," Simpson said during the service. ''We commend him to your hands. Thank you for him."
The senator said he will always ''remember the opening line of some of the greatest sports events of my memory: 'This is Curt Gowdy bringing you . . .' "
''And now he's rounding third and heading for home. God bless you."