The Lost Interview:
Marty Glickman
The following is an interview of the late ASA Hall of Famer Marty Glickman conducted by Lou Schwartz on July 18, 2000. It was recently discovered in the ASA office and we are happy to share it with you.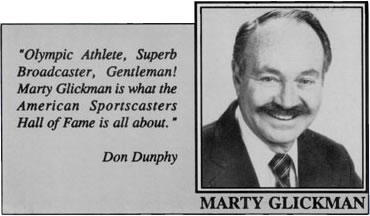 Lou Schwartz: What was your first job as a sportscaster?
Marty Glickman: Actually I was an undergraduate when I started. I was up at Syracuse and had a big day on the football field and because of the enormous publicity I got as a football player, I was asked to do a local broadcast. I was in my junior year. I was the first jock turned broadcaster. It was a couple of years before Tommy Harmon did it.
LS: How much was your first paycheck?
MG: My first paycheck was $50 a show. No, wait a minute. I don't think that's right. I think it was $15 a show. I was a college junior and got about $100 for the whole series of shows so it had to be $15 a show.
LS: When did you get your first big break?
MG: It wasn't really a big break. I started working at WHN in New York as a jack-of-all-trades. I pulled the wire service stories off the wire machines and I retyped programs for Bert Lee and Dick Fishell. I guess the first show that I got some prominence for was "Today's Baseball," a dramatized re-creation of a ball game. I did a ball game in 15 minutes. It was a very popular program. It wasn't originated by me but I did it for something like 13 years on WHN. While I was doing that, the war broke out and I went in the service. While I was there I was trying to convince Bert Lee, who was the General Manager of WHN, that we should be broadcasting basketball. Nobody was broadcasting basketball. Finally when I came back from overseas, they asked me to start doing basketball on WHN. I came back in December of 1945 at the end of the war and even while still in uniform I broadcast the first college basketball doubleheaders at Madison Square Garden. I think that was the first really major thing that I did. Nobody had ever done it before. I developed a technique for doing basketball that people liked and it became very popular. I did basketball for maybe 40 years.
LS: Who was your favorite sports figure to interview?
MG: It depended on the time of the year and the sport. After all, those were the days of Joe DiMaggio in baseball, Ken Strong and Tuffy Lehman in football. In basketball, George Mikan came in shortly thereafter out of DePaul in Chicago and it wasn't long after that Bob Cousy became very popular. He was a New York boy. He went to Andrew Jackson High School. I saw him play high school ball. As a matter of fact, I was the PA announcer at the Garden for some of his high school games. Basketball was a big deal for me. What really set me back considerably was when the college basketball scandal developed. I'd become quite well-known as a basketball broadcaster but the scandals with City College, LIU and NYU kind of set back everybody in college basketball. Fortunately, pro basketball had started and I was also doing those games.
LS: What event do you most remember?
MG: There was a famous shot taken by a kid from Rhode Island State, Ernie Calverly, in the National Invitational Tournament. It was in the opening round of the NIT in a very big game between Rhode Island State and Bowling Green. Rhode Island State was down by about 17 points in the fourth quarter but they began to pull closer. With about four seconds to go, Rhode Island State was down by only four points and Ernie Calverly got the ball for State. Just short of the mid-court line, he shot and scored and cut the gap to two points. The ball was taken out underneath the Rhode Island State basket and the inbounds pass was intercepted by State and they got possession and called a time out with one second left. There was an inbounds pass to Calverly and in one motion he caught the pass and shot. While the ball was in the air, the buzzer sounded and it went in. That sent the game into overtime. During overtime it was Calverly who scored most of the points for State and they won the game. The NIT, the National Invitational Tournament, was the big college tournament at the time. Much more important than any of the other basketball tournaments, and this game was the critical game of the NIT. It was one of the biggest moments.
LS: Do you have a broadcast that you would like to forget?
MG: When the ABA was fighting with the NBA, I was doing some of the ABA games. I did a game out in Commack, Long Island. I guess the Nets were playing. As I was doing a preliminary game, a kids game, they slipped me a message that Indiana, the team that was supposed to play the Nets that night, was still overhead at LaGuardia Airport waiting to land. We were already on the air so I had to kill about an hour and 15 minutes with this kids game. After I explained what was happening, I decided to put the great names of pro basketball of that time like Bob Cousy and Tommy Heinsohn onto these kids and describe what they were doing. I knew the ballplayers very well and I was able to refer to the ballplayer's names on the kids that were playing. One of the kids named DeAngelis, I still remember his name, was terrific. He must have been about 10 years old and he was just great so I gave him Bob Cousy's name. Surprisingly it went over very well.
LS: Who is your favorite broadcasting partner?
MG: I didn't have one favorite partner. There were different guys in different sports. Al DeRogatis was one of my favorite partners in football. I enjoyed working with Dave Jennings too. He was one of my last partners. In basketball, Connie Desmond was a good friend of mine for many years.
LS: Besides New York, what is your favorite city?
MG: San Francisco.
LS: Do you have a favorite restaurant?
MG: Mamma Leone's. It was a hangout for basketball players.
LS: What was your favorite sport to broadcast?
MG: Football.
LS: What about your favorite team?
MG: I'm a Giants fan.
LS: Was there a particular manager or owner with whom you had a good relationship?
MG: Wellington Mara, the owner of the Giants. When he was very young he was the business manager of the Jersey City Giants, which was the farm team of the New York football Giants. I played for Jersey City and Mara was my boss.
LS: What advice would you give to young sportscasters?
MG: The single most important thing is to know the game. Study the history of the game, the fine points of the game, and the personalities of the game so you'll be able to recognize what they're doing out there and then you'll be able to anticipate certain things that are going to happen.
LS: How would you like to be remembered?
MG: As a guy who loved sports.