Mike Francesa
Hints at Possible
"Mike and the Mad Dog" Reunion
by Lou Schwartz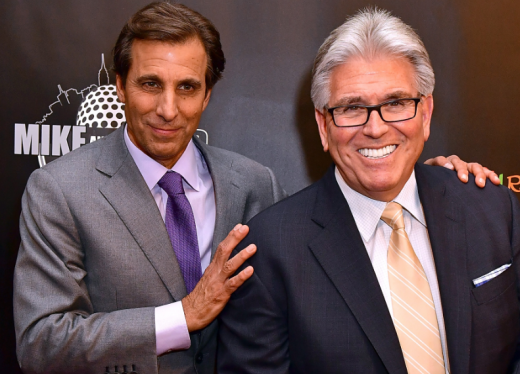 Chris "Mad Dog" Russo and Mike Francesa

FOR IMMEDIATE RELEASE

April 25, 2017 - Could there be a "Mike & the Mad Dog 2.0" coming to the radio airwaves in the near future? It sure sounded that way at the screening of a documentary highlighting the careers of sports talk radio pioneers Mike Francesa and Chris "Mad Dog" Russo at the Tribeca/ESPN Sports Film Festival on April 21st in New York City.


During a Q &A after the premiere of the ESPN "30 for 30" documentary, Francesa, who is leaving WFAN Radio in December after 30 years, was asked by moderator and NBC Sportscaster Andrea Joyce if he was open to a reunion with his former partner, who was also in attendance.

"I think it's possible, I really do," Francesa said. "I don't know what's going to happen, in all seriousness, but would I listen if something was brought up about Mike and the Mad Dog, or Mike and the Mad Dog 2.0. Yeah, why not? I think it would be fun, I really do."

The "Mike and the Mad Dog" Show debuted on WFAN in 1989 and quickly became a staple of the New York sports scene. Russo's unabashed emotions complimented Francesa's monotone fact-driven commentary and when the two clashed it was sports radio at its best.
The show, which defined the sports talk format for all to follow, originally aired from 3-7pm but because of its popularity was eventually pushed back to 1pm start time and was also simulcast on the YES Network beginning in 2002.

After a nearly 20-year run, the relationship between Francesa and Russo became strained over several issues, including Russo's desire to have his own show, and the two parted ways in 2008. Francesa remained at WFAN and continued the show while Russo accepted an offer from SiriusXM Radio to host his own afternoon show and run his own sports talk channel.

Since their breakup, the two have reunited several times, including a live show from Radio City Music Hall in 2016 and at the Super Bowl this past February. Only time will tell if we will once again hear Mike and the Mad Dog on a regular basis but it looks as though the sports talk pioneers are open to the possibility. 
*                                   *                                        *