Ernie Johnson, Fighting Cancer, Returns to TNT Studio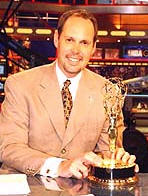 NEW YORK -- When Ernie Johnson hosted TNT's season-opening coverage of an NBA doubleheader on Tuesday night, he was just as bald as studio mates Charles Barkley and Kenny Smith.
Six rounds of chemotherapy have left Johnson without his hair. But he said he feels fine and is ready to get back to work after taking four months off for treatment of Non-Hodgkin's Lymphoma.
Johnson was diagnosed with the illness in 2003, but remained on the air until he felt his work was being affected because his jaw was noticeably swollen. He worked through TNT's coverage of the Western Conference finals, then skipped his usual summer responsibilities with the blessing of his bosses.
"When the summer began [they] said, 'Don't worry about doing golf, don't worry about doing college football,"' Johnson said. "'Focus on this, get better, if you can come back for basketball, welcome back.' There was never any pressure."
Johnson hadn't told Barkley or Smith about the illness until early last season, when he asked them if his appearance had changed much. He became convinced it had during All-Star weekend -- he said it "got uncomfortable to be on the air" -- and announced on the program the following week that he would get treatment after the season.
Johnson has had six chemo treatments, with another scheduled for Friday, and could have one more after that. Doctors told him he had shown an "excellent response to treatment" and he said he was touched by the amount of calls and e-mails he had received.
"There have been 100 people who have said to me this summer -- at least 100 -- they always want to know how Ernie's doing," Barkley said. "I was calling Ernie pretty much once a week just to check on him. And it's been so many people who wanted me to wish Ernie the best. It's been amazing."
Copyright 2006 by The Associated Press