Football Tough Guys Have Nothing on Erin Andrews

(The following was written by Andrea Peyser
and appeared in the NY Post on January 27, 2017)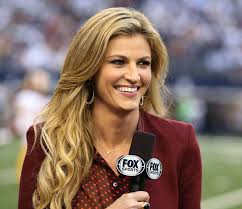 As eyeballs worldwide converge on Super Bowl LI Feb. 5, sports fans glued to the tube in bars and in homes should be dazzled by the epic gymnastics of a bunch of super-fit testosterone cases. Also, by the bravura performance of the toughest human on the gridiron — not an athlete.

She isn't even a dude.

Erin Andrews is at the top of her game in the male-dominated realm of sportscasting, the rare female able to let the taunts of Internet trolls roll off her back while doing her job with integrity and guts.

But Andrews' life — already rocked by a creepy stalker who splashed a video of her naked body over the Internet, by hotel staffers who enabled this dastardly invasion of privacy, and by gawkers and geeks who continue to make light of her agony — has been tested by an even greater threat.

In September, the Fox Sports sideline reporter and "Dancing with the Stars'' TV show co-hostess was diagnosed with cervical cancer. As she waged a struggle for her life, she kept her ordeal secret from fans, colleagues and foes.

Until now.

Andrews, 38, just came clean about the state of her health in an interview with Sports Illustrated magazine's online publication, The MMQB (Monday Morning Quarterback.) This may be the most intimate feminine declaration ever made by someone in her field.

And her extraordinary display of courage serves as an inspiration that goes way beyond professional football.

Andrews may have helped save the lives of untold numbers of people, particularly women. She showed the public that everyone, no matter their professional calling, can, and should, get screened and, if necessary, get treatment. If she can do it, the rest of us can.

May she have a long and successful career.

It happened after Andrews faced what was, until then, the greatest test of her character and strength. While she worked for ESPN, a reprobate named Michael David Barrett followed her to hotels in three American cities, he has admitted, recording her images twice.

At a Marriott hotel in Nashville, Tenn., in 2008, he tampered with the peephole to her room's door, and through it shot images of her in the nude. He pleaded guilty to interstate stalking and was sentenced by a judge to 2 ½ years in prison in 2009. But not before Andrews cried out to her tormentor in court, "You violated me and you violated all women. You are a sexual predator, a sexual deviant and they should lock you up.''

Incredibly, it got worse.

Last year, came a trial that further exposed the anguish Andrews suffers to this day. She sued her stalker and the company that owns and operates the Nashville Marriott at Vanderbilt University, whose employees allowed Barrett to rent the room next door to hers. A jury awarded Andrews $55 million.

(After an appeal, she agreed to an undisclosed settlement.)

But it was too late to protect her. A computer scientist testified at trial that an estimated 16.8 million people had viewed her unclad.

For the woman who had stood up for her sisters everywhere, her suffering was far from over. Six months after the civil trial ended, Andrews stared down a potential death sentence: cancer.

She underwent surgery in October, and another procedure Nov. 1. But Andrews didn't miss a beat — she hopped a red-eye flight from Los Angeles to Green Bay, Wis., two days after her first operation, and was on the air after just five days. Now she's been declared in the clear, healthwise.

But the trauma will always remain. She's said she can't check into a hotel without scouring her room for recording devices. And she feels terrorized by the comments of strangers, who wonder aloud and online how she can show her face in public — or accuse her of somehow bringing the whole madness upon herself.

It's beyond cruel.

Andrews recently got engaged to Jarret Stoll, 34, a former National Hockey League player. I expect her to cover the Super Bowl matchup in Houston between the New England Patriots and the Atlanta Falcons with her trademark energy and intelligence.

After all, she has sprung over greater hurdles.
*                    *                          *