Eddie Doucette to Receive
2013 Curt Gowdy Media Award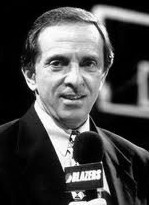 September 6, 2013 - Eddie Doucette, the original voice of the Milwaukee Bucks and a legendary broadcaster with over 30 years of experience calling NBA action, is set to receive the 2013 Curt Gowdy Media Award this weekend during the Naismith Memorial Basketball Hall of Fame's Enshrinement events in Springfield, Mass. The 2013 Hall of Fame inductees include Gary Payton, Bernard King, Rick Pitino and Jerry Tarkanian.

Doucette served as the voice of Bucks basketball during the franchise's first 16 seasons, including the memorable 1970-71 campaign that culminated with Milwaukee's only NBA Championship. With a colorful on-air style, Doucette painted a vivid picture for listeners during the early years of Bucks basketball. He coined many memorable phrases, including naming Lew Alcindor's signature shot the "skyhook," and his "Bango!" catchphrase was eventually memorialized as the name of the Bucks' award-winning mascot.

In addition to his work on Bucks broadcasts, Doucette also called games for the Indiana Pacers, Denver Nuggets, L.A. Clippers and Portland Trail Blazers, as well as NBA-TV, CBS, USA Network, and the NBA Radio Network. Doucette has also made key contributions to Major League Baseball through nearly 20 years of play-by-play work, served as the radio voice of the NFL's Los Angeles Rams, and has called the action for numerous college bowl games and PGA Tour events.
*                        *                               *