Ian Eagle and Dan Fouts Promoted by CBS to
No.2 NFL Broadcast Team



by Lou Schwartz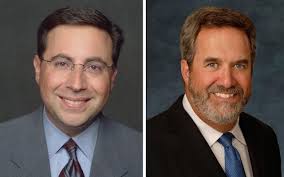 FOR IMMEDIATE RELEASE
June 13, 2014 - Ian Eagle, play-by-play man for "The NFL on CBS" and ASA Advisory Board member, along with his partner, analyst Dan Fouts, have been promoted by CBS to the No. 2 broadcast team for the 2014 NFL season.

Eagle and Fouts have shared the broadcast booth for the last four seasons and the connection between the two has become apparent.

"I'm thrilled that Dan and I get to continue our partnership," Eagle told SI.com after it was announced. "Chemistry is so hard to predict. When CBS Sports President Sean McManus put us together five years ago, he had the foresight that we could be an entertaining combination. It's been an organic partnership. We will cover things the same way. It may be going to a larger audience, but that won't change how we approach the game."

With the network's top team of Jim Nantz and Phil Simms scheduled to call 14 newly-acquired "Thursday Night Football" games this year, the two will occasionally take the weekend off. This will open the door for Eagle and Fouts to work some of the season's marquee match ups.

The No. 3 slot, previously held by Eagle and Fouts, will go to veteran announcer Greg Gumbel and  newcomer Trent Green. The former quarterback will replace ASA member Dan Dierdorf, who retired in 2013.
*                     *                            *