Don Sherry Stands by His Comments
on Women Reporters in
Men's Locker Rooms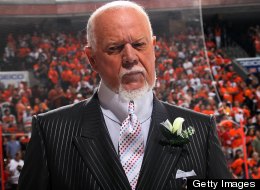 May 2, 2013 - Don Cherry is standing by his comments that female reporters should not be allowed in men's locker rooms. During his "Coach's Corner" segment on CBC's "Hockey Night in Canada" on Wednesday, Cherry insisted the environment is just not appropriate for women.

"If (players are) going to act the way they act ... not everybody, you would not want your daughter or your sister in there. Believe me," Cherry said.

Ironically, Cherry was the first NHL coach to allow women into his locker room when he was coaching the Boston Bruins in the mid-1970's. However, he made it clear to his players that they should be on their best behavior.

Cherry originally raised the issue while commenting on an incident involving Chicago Blackhawks defenseman Duncan Keith and Vancouver radio reporter Karen Thomson. Keith made what some felt were sexist remarks towards her during a post-game interview, which he later apologized for.
*                         *                               *