Dick Vitale Has Throat Surgery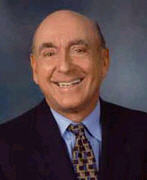 Dick Vitale is temporarily stepping down as ESPN's lead college basketball analyst after undergoing throat surgery Tuesday, December 18.
In a letter posted on espn.com, Vitale, a Lifetime Member of ASA, said he will continue to offer insights on basketball at his Web site while he recovers. Vitale, 68, said his doctor's goal "is to have me sitting back at courtside in early February."
The surgery to treat ulcers on his left vocal cord was performed at Massachusetts General Hospital in Boston.
Vitale's voice, which is usually loud, has been raspy for most of the season, but he never addressed the situation publicly until Tuesday. He had never missed an assignment in his 28-plus seasons at ESPN.
"Visiting college campuses and interacting with the fans has kept me so young and energized," Vitale said on espn.com. "I can't wait to get back out there, having a blast with all of you, who are so vital to our game."
It was unclear Tuesday who — if anyone — would replace Vitale. Network officials didn't return phone calls.