5 Questions for Dick Vitale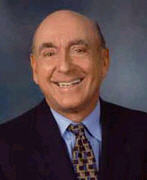 Recently the New York Post's Andrew Marchand spoke with ESPN college basketball analyst and ASA member Dick Vitale. Vitale, 66, is in his 27th year at ESPN.
Q: Who do you like to win the national championship?
A: Right now, you have to give the edge to Duke, but the beauty and the essence of the college game that excites me is that in a 4 of 7 like the NBA, I don't think anyone can beat Duke. But one night, if they have a bad shooting night, J.J. Reddick can't make a three, they have foul trouble, then the party is over.
Q: How excited do you get at this time of year?
A: This is my 27th year at ESPN and I'm 66 years old and I act about 12m and I'll match my energy and enthusiasm with any young kid out there.
Q: I like your enthusiasm- it seems genuine. But when it is a big game, I feel like if you toned it down you'd be even better because we are already excited about the game. What do you think?
A: Everyone is entitled to their opinion. I respect their opinions. Obviously when you are unique or different it is not going to please everybody. But the bottom line is that fans all over have been great to me. Just come with me one day and see the way I am treated by the fans. I respect people. There are times where I don't like myself on the air- 'Quiet down, man!'- but that's just me and that is not going to change. I've been that way all my life. I think that has given me the success I had.
Q: Since you've been at ESPN, what was the most enticing offer you have had?
A: I have had a number of different things come my way. A lot of people are not aware of this, but probably 10 years ago my wife and I were flown out to Hollywood. They said, 'Look at the transition guys like Bob Uecker, Alex Karras and guys like that have made and do a sitcom. We love you, man. We would surround you with some good people. You would make a mot more money then you are making.'
Q: How far did it get?
A: It never got to the point where it was yes or nor. I know my strengths and my weaknesses. I love basketball and love the game. This is what I do. I make a great living, and how much more money do you need? I have been a very blessed, lucky guy. I pinch myself, man. I don't have the looks of a Tom Cruise, but I'll tell you what: I know something must be right because I connect. I don't know how it happened.