Dick Lynch, Longtime New York Giants Radio Analyst, Dies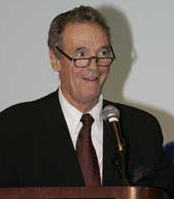 AP- NEW YORK (Sept. 24) - Dick Lynch who starred at cornerback for the New York Giants during their glory years in the late 1950s and early 1960s and was a longtime radio analyst for the team, has died. He was 72.
Lynch, who had been treated for leukemia, died in New York on Wednesday morning, family members said.
Lynch played in the NFL from 1958-1966 - his first season with Washington and the last eight with the Giants. He had 37 career interceptions, including a league-leading nine each in 1961 in 1963. He had four returns for touchdowns, three in 1963.
"He was a player who played way, way, way above his physical ability," Giants teammate and Hall of Famer Frank Gifford said in a telephone interview with The Associated Press. "He was an inspirational person for all of us. He was a hell of a cornerback and was as tough as they come."
Lynch perhaps is best known for a 3-yard, fourth-down, touchdown run with 3:50 to play that gave Notre Dame a 7-0 win over Oklahoma in 1957, ending the Sooners' 47-game winning streak.
"Dick Lynch not only scored the winning touchdown, but he played great defense all day long," said Terry Brennan, who coached Notre Dame from 1954-58. "He proved how good a defender he was - of course he didn't have to prove it to me - but he proved it when he played the corner at New York."
Brennan recalled Lynch winning the light heavyweight title two years in a row at the Bengal Bouts, a charitable boxing event for students started in 1923 by Knute Rockne. "He knocked out everybody he fought. So you know he was tough. But he was a good tough," Brennan said.
After his playing days ended, Lynch turned to radio and was the Giants' color commentator from 1968 until last season, which was capped when the organization captured the Super Bowl with a stunning upset of the New England Patriots.
"He was just a wonderful man who made everyone feel like they were a part of the Giants family," said Bob Papa, who handles the play-by-play for the team. "He was the Phil Rizzuto of the Giants. He embraced everybody with a warm heart and made me comfortable in the booth and was just a fun guy to be around."
Players and coaches loved to talk to the upbeat Lynch, who openly rooted for the Giants on the air.
"Certainly he bled Giants blue," center Shaun O'Hara said.
Giants president John Mara considered Lynch part of the family.
"He was a true Giant as a player, a broadcaster and as a man," Mara said. We will miss him dearly and our thoughts and prayers go out to Roz and the entire Lynch family." Current Giants coach Tom Coughlin met Lynch at a banquet in upstate New York, calling it one of the highlights of his youth.
"...Just a wonderful human being and a great guy," Coughlin said. "He was always so positive; always good with the players; always encouraging them. It is very hard to believe that he is gone."
Lynch played for the Giants from 1959-66, appearing in four NFL Championship Games. He played in 97 regular season games for the Giants (109 in his career). Careerwise, he had seven TDs, four on interception returns and three on fumble returns.
"I had a great career," Lynch said in an interview three years ago. "I played with the best group of men you could play with, offensively and defensively. We hung together. In those days you went out there with 11 people. You didn't go out there by yourself. It wasn't just Sam Huff and 10 other guys. It was the defense."
A Bound Brook, N.J., native, Lynch attended Phillipsburg Catholic High School in Clinton. He led Notre Dame in receiving as a senior with 13 catches for 128 yards. He also led the team in kickoff returns with a 31.8-yard average. A three-year letter-winner, Lynch was the starting right halfback in '57, gaining 287 yards and scoring 30 points. He also made 28 tackles at right outside linebacker that season.
Lynch is survived by his wife, Roz, and five children. He was predeceased by a son, Richard, who was killed in the terrorist attacks at the World Trade Center.
Funeral services will be Monday at St. Patrick's Cathedral.