Dick Galiette, Voice of Yale Football, Dies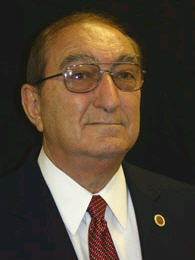 Dick Galiette, the radio play-by-play man for Yale football for 33 seasons, has died at 72.
Galiette died on October 21, 2005, at St. Raphael's Hospital, the school said. No cause of death was given.
Galiette did play-by-play on the radio for Yale from 1963-87 and then again from 1997 until his death. His final broadcast was Oct. 15, a 28-21 loss to Lehigh.
"He really loved doing his job and was very professional," said former Yale football coach Carm Cozza, who has spent the last eight seasons as Galiette's color commentator on WELI-AM.
Galiette served as a sports anchor at WTNH-TV from 1964-81, and worked for ESPN, anchoring "SportsCenter" broadcasts in the early 1980s.
He had served as executive director of the National High School Athletic Coaches Association since 1999, and is to receive one of the Connecticut High School Coaches Association's first two media recognition awards in November.
Yale coach Jack Siedlecki told his team of Galiette's death before Saturday's 38-21 loss to Penn.
"I just said Dick was a guy that loved Yale football, loved our kids and would have loved to see us beat Penn," Siedlecki said. "The amount of time he put into Yale football to do a radio broadcast was pretty amazing. I know he was a network guy, and you would have thought he was doing a network production every week. You knew he loved what he was doing."
Galiette is survived by his wife and two children. A funeral will be held Wednesday at 10:30 a.m. at St. Thomas Church in Southington.