Denny Matthews Wins Ford C. Frick Award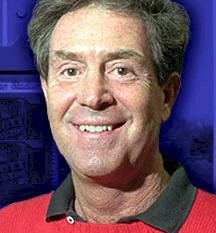 (Cooperstown, NY) Denny Matthews, who has seen more Kansas City Royals games than anybody, was named the 2007 winner of the Ford C. Frick Award for broadcasting excellence Thursday and will be honored at the National Baseball Hall of Fame induction ceremonies July 29 at the Clark Sports Center in Cooperstown, N.Y.
Matthews, 64, who will begin his 39th season behind the microphone in the Royals radio booth this year, became the first Kansas City broadcaster to receive the honor that has been presented annually since 1978 when Mel Allen and Red Barber were the first winners. The award is named for the former commissioner and National League president who had been a sportswriter, including one of Babe Ruth's ghost writers, and public relations director for the NL.
A 20-member electorate, comprised of the 14 living Frick Award recipients and six historians/columnists, selected Matthews from a group of 10 finalists, which included three broadcasters chosen by an online vote of fans _ Ken Harrelson (Chicago White Sox), Bill King (Oakland Athletics) and Joe Nuxhall (Cincinnati Reds). The other nominees were former players Dizzy Dean and Tony Kubek, radio legend Graham McNamee and play-by-play voices Tom Cheek (Toronto Blue Jays), Franz Laux (St. Louis Browns) and Dave Niehaus (Seattle Mariners).
Matthews has been with the Royals since the franchise's inception as an American League expansion club in 1969. He beat out more than 250 applicants for the No. 2 announcing position alongside veteran Bud Blattner and has been with the team ever since.
"Someone told me they were looking for broadcasters, and I was completely confident that I was the guy they were looking for, so I applied," Matthews told the Kansas City Star. "When I found out I was one of 250 applicants, that was a little daunting. They got it narrowed down to three of us. Buddy Blattner was tabbed as the No. 1 choice, and they picked me as No. 2, and I was in."
Matthews took over the No. 1 spot in 1975, teaming with Fred White through 1998 and with Ryan Lefebvre since 1999. In addition to his Royals work, Matthews also did play-by-play for CBS Radio Network during portions of the regular season and during the 1982 and 1985 World Series. He also worked with Frick winner Ernie Harwell on CBS' broadcast of the 1982 AL Championship Series between the California Angels and the Milwaukee Brewers.
But it is with the Royals that Matthews is most identified and small wonder. Matthews is just one of nine announcers in Major League Baseball history to spend an entire career with one club with at least 35 consecutive seasons behind the microphone. He joins Vin Scully (Dodgers, 56), Jack Buck (St. Louis, 47), Jaime Jarrin (Los Angeles, 44), Joe Nuxhall (Cincinnati, 40), Phil Rizzuto (Yankees, 40), Bob Uecker (Milwaukee, 36), Richie Ashburn (Philadelphia, 35) and Mike Shannon (St. Louis, 35) as the only broadcasters to accomplish the feat.
Matthews grew up in Bloomington, Ill., where he was graduated from Central Catholic High School and Illinois Wesleyan University. In college, he lettered in football and baseball for three years and finished eighth in the nation (NAIA) in pass receiving in 1965.
Prior to joining the Royals, Matthews worked for WMBD-TV, WMBD Radio and KMOX-TV. He was elected to the Royals Hall of Fame in 2004 and the Missouri Sports Hall of Fame in 2005. Matthews devotes time and resources to several Kansas City area charities, including the SAFE program, which provides for families of fallen police officers, firefighters and emergency workers, and Operation Lifesaver, a railroad crossing safety and awareness program.
Matthews is also the author of the 2004 book, "Tales from the Royals Dugout," and co-author with Fred White of the 1999 book, "Play by Play – 25 Year Years of Royals on Radio."
Members of the 20-member electorate are Frick honorees Harwell, Jarrin, Scully, Marty Brennaman, Herb Carneal, Jerry Coleman, Gene Elston, Joe Gargaiola, Milo Hamilton, Harry Kalas, Felo Ramirez, Lon Simmons, Bob Uecker and Bob Wolff, plus Bob Costas (NBC), Barry Horn (Dallas Morning News), Stan Isaacs (formerly of New York Newsday), Ted Patterson (historian), Curt Smith (historian) and Larry Stewart (Los Angeles Times). Frick Award winners, just as J.G. Taylor Spink Award winners for baseball writing, are honored in the "Scribes and Mikemen" exhibit between the Hall of Fame gallery and the main library of the museum.