Len Dawson Receives
Pro Football Hall of Fame's
Pete Rozelle Radio-Television Award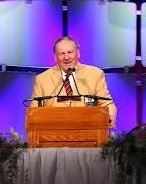 August 8, 2012 - Len Dawson, longtime ASA member who was elected to the Pro Football Hall of Fame in 1987, was honored again in Canton, this time for his career in broadcasting. The popular broadcaster and Hall of Fame quarterback received the 2012 Pete Rozelle Radio-Television Award, given annually by the Pro Football Hall of Fame to recognize "long-time exceptional contributions to radio and television in professional football."

Dawson received the award on Friday, August 3 during the annual Enshrinees' Gold Jacket Dinner, the event where the Hall of Fame Class of 2012 – Jack Butler, Dermontti Dawson, Chris Doleman, Cortez Kennedy, Curtis Martin and Willie Roaf - received their gold Pro Football Hall of Fame jackets.

"This is an unbelievable award for me," Dawson remarked. "To be in the Hall of Fame as a player was the highlight of my playing career, but now to be recognized by the Hall of Fame as a broadcaster, well, it's just a great, great honor."

Dawson began his broadcasting career in 1966 as a sports anchor with KMBC Radio and sports director for KMBC-TV while still playing quarterback for the Kansas City Chiefs. Following his retirement as a player in 1975, Dawson joined NBC-TV as a color analyst on NFL games, partnering with the likes of play-by-play announcers Jack Buck, Charlie Jones and others from 1976 until 1982. Also in 1982, he joined the Chiefs Radio Network as a color commentator, a position he continues to hold. He is the longest tenured sportscaster in Kansas City radio and television history.

While working NFL games for NBC, Dawson also began a 24-year stint (1977-2001) as the host of HBO's popular "Inside the NFL" show. "Inside the NFL" was cable television's longest running series and the first NFL-related program to air on cable.

Len is active in the Kansas City community and focuses much of his energy on charity work. He has raised money for countless charitable organizations, especially those that help needy children. He is married and has two grown children.

Past recipients of the Pete Rozelle Radio-Television Award include: Bill McPhail, 1989; Lindsey Nelson, 1990; Ed Sabol, 1991; Chris Schenkel, 1992; Curt Gowdy, 1993; Pat Summerall, 1994; Frank Gifford, 1995; Jack Buck, 1996; Charlie Jones, 1997; Val Pinchbeck, 1998; Dick Enberg, 1999; Ray Scott, 2000; Roone Arledge, 2001; John Madden, 2002; Don Criqui, 2003; Van Miller, 2004; Myron Cope, 2005; Lesley Visser, 2006; Don Meredith, 2007; Dan Dierdorf, 2008; Irv Cross, 2009; Chris Berman 2010; and Jim Nantz, 2011.

Pro Football Career: Dawson was a No. 1 draft pick of the Pittsburgh Steelers in 1957, played 19 seasons with the Steelers (1957-59), Cleveland Browns (1960-61) and Dallas Texans/Kansas City Chiefs (1962-1975). He was selected to six AFL All-Star Games and the 1972 AFC-NFC Pro Bowl.

AFL Player of the Year in 1962, he was a first- or second-team All-AFL selection in 1962, 1964, 1965, 1966, and 1968. He also won four AFL passing titles. In 1962 he led the Dallas Texans, who became the Kansas City Chiefs in 1963, to their first AFL championship in a double overtime victory over the Houston Oilers. Dawson was also the chief architect of Kansas City's titles in both 1966 and 1969 that led to his participation in Super Bowls I and IV. He was named Most Valuable Player in Super Bowl IV.