Dave Niehaus Wins
2008 Ford C. Frick Award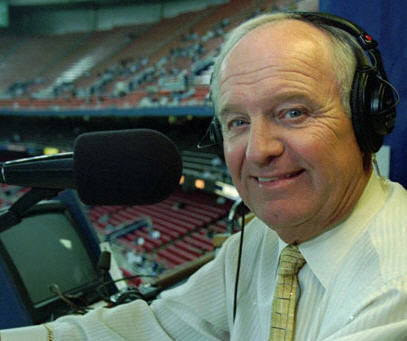 Happy birthday, Dave Niehaus, you're headed for the National Baseball Hall of Fame.
Niehaus, a fixture in the Seattle Mariners' booth since they entered the American League as an expansion franchise in 1977, was named the 2008 winner of the Ford C. Frick Award Tuesday and will be honored at the Hall of Fame Induction Ceremonies July 27 at the Clark Sports Center in Cooperstown, N.Y.
The news came on Niehaus' 73rd birthday. It marked the second consecutive year that the award for major contributions to baseball broadcasting has been won by an announcer who has covered his club since its inception. Niehaus follows Denny Matthews, the broadcaster for the Kansas City Royals since their debut season of 1969.
"What a birthday present," Niehaus said on a telephone conference call. "It's the most humbling experience. My phone has not stopped since the news got out."
Among the well wishers to contact Niehaus were Cincinnati Reds right fielder and former Mariner Ken Griffey Jr., Philadelphia Phillies general manager and former Mariners GM Pat Gillick and former manager Dick Williams, who was elected to the Hall of Fame in December by the Veterans Committee.
"I've known Dave for a long time," Griffey said, "and my family and I were excited to hear he'll be inducted into the broadcasters' wing of the Hall of Fame. We're very happy for him. No one is ever going to forget, 'My, Oh, My' or 'It Will Fly Away.' It's a tremendous honor for Dave and the Mariners family."
Niehaus said that his call of Griffey scoring from first base on a double by Edgar Martinez for the winning run of the Mariners' AL Division Series Game 5 victory over the New York Yankees in 1995 was the most memorable of his career. He also cited his description earlier that year of a grand slam by Tino Martinez among his favorites.
"Tino was hitting a lot of grand slams at the time, and I had always used the term 'salami' for a grand slam, as a lot of us do," Niehaus said. "I remembered an expression my grandmother used, and that's when I came out with, 'Get out the rye bread and the mustard, Grandma, it's grand salami time.' The vendors have been sending me up stuff ever since."
Over 31 seasons with the Mariners, Niehaus has been behind the microphone for 4,817 of their 4,899 games. He was recruited for the job by entertainer Danny Kaye, the Mariners' first owner who was familiar with Niehaus' work with the then California Angels in the 1960s and '70s. Niehaus recovered from a heart condition that resulted in his undergoing two angioplasties in 1996 and has been going strong ever since as a combination broadcaster-cheerleader for the Mariners.
"Dave Niehaus is the heartbeat of Mariners baseball," Hall of Fame president Dale Petroskey said. "Since Day One, he has painted a picture of baseball and summer in Seattle better than anyone ever has.
"Every Mariners fan knows his style and signature calls such as 'My, oh my!' and 'It will fly away!' By virtue of his talent, dedication, and professionalism, he has earned his rightful place among the elite broadcasters in baseball history in receiving the 2008 Ford C. Frick Award. We are looking forward to welcoming Dave and his family in Cooperstown this summer."
A 20-member electorate, consisting of the 14 living Frick Award recipients and six historians/columnists, selected Niehaus from a group of 10 finalists, which included three broadcasters chosen by an online vote of fans -- Joe Nuxhall (Cincinnati Reds), Bill King (Oakland Athletics) and Joe Morgan (ESPN's Sunday Night Baseball). The other nominees were former players Dizzy Dean and Tony Kubek, radio legend Graham McNamee and play-by-play voices Tom Cheek (Toronto Blue Jays), Ken Coleman (Cleveland Indians, Cincinnati Reds, Boston Red Sox) and Dave Van Horne (Montreal Expos, Florida Marlins).
Niehaus was born Feb. 19, 1935, in Princeton, Ind.
"That's Gil Hodges' hometown," he said. "I've always believed that he belongs in the Hall of Fame."
After graduating from Indiana University in 1957, Niehaus worked for the Armed Forces Radio and TV service, calling the action for Dodgers and Yankees games, as well as basketball and hockey in New York.
After that came stints in Los Angeles with the Dodgers, Rams and Lakers before he teamed up with Dick Enberg and Don Drysdale on Angels broadcasts from 1969 through 1976. Niehaus also did UCLA football and basketball broadcasts for four years before moving to Seattle in 1977. He and his wife, Marilyn, live in Bellevue, Wash., and have three children and six grandchildren.
Niehaus was elected Washington State Sportscaster of the Year in 1995 and 1996 by the National Sportscasters and Sportswriters Association and was honored in 1997 by the Washington State House of Representatives for his "contributions to the quality of life in the Pacific Northwest."
When Safeco Field opened July 15, 1999, Niehaus threw out the ceremonial first pitch for the inaugural game. The Seattle Times listed him among its "Top 10 Most Influential People of the Century," and he was also named "Entertainer of the Century" by a local radio station. Niehaus was one of the first two inductees to the Seattle Mariners Hall of Fame in 2000. He is also a member of the Puget Sound Sports Hall of Fame.
Niehaus will be honored at the Hall of Fame Induction Ceremonies for Williams and relief pitcher Goose Gossage, who was elected in January by the Baseball Writers' Association of America.
To be inducted posthumously are four Veterans Committee selections: owners Barney Dreyfuss and Walter O'Malley, commissioner Bowie Kuhn and manager Billy Southworth.
Also as part of the ceremonies, the late Larry Whiteside, formerly of The Boston Globe, will be honored with the J.G. Taylor Spink Award for contributions to baseball writing. The legacy of the late John J. "Buck" O'Neil will be observed with the creation of the Buck O'Neil Lifetime Achievement Award and the dedication of a bronze statue of O'Neil.
A broadcaster, active or retired, must have a minimum of 10 years' continuous Major League broadcast service with a club, network, or a combination of the two for Frick Award consideration. More than 195 broadcasters were eligible for consideration for this year's award, which is named for the former commissioner and National League president who had been a sportswriter and public relations director for the NL.
"For a broadcaster, this is our Oscar, our Academy Award," Niehaus said. "You look at that list of names, and it's intimidating. I have a special feeling for Mr. [Vin] Scully, the poet of our profession, and for Harry Caray, who brought the Cardinals alive to me when I was growing up."
Scully is part of the 20-member electorate with fellow Frick honorees Matthews, Marty Brennaman, Jerry Coleman, Gene Elston, Joe Garagiola, Milo Hamilton, Ernie Harwell, Jaime Jarrin, Harry Kalas, Felo Ramirez, Lon Simmons, Bob Uecker and Bob Wolff, plus Bob Costas (NBC), Barry Horn (Dallas Morning News), Stan Isaacs (formerly of New York Newsday), Ted Patterson (historian), Curt Smith (historian) and Larry Stewart (Los Angeles Times). Frick Award winners, just as Spink Award winners, are honored in the "Scribes and Mikemen" exhibit between the Hall of Fame gallery and the A. Bartlett Giamatti Library of the museum.