Dan Dierdorf, Longtime NFL Analyst, Calls His Last Game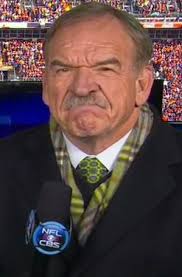 January 13, 2014 - Dan Dierdorf, longtime ASA member and CBS NFL analyst, who announced he would be retiring at the end of the 2013 season, called his last game on Saturday, January 11, the New England  Patriots' playoff victory over the Indianapolis Colts, 43-22.

Dierdorf , who said he did not want the focus to be on him during the game, did take some time in the final minutes to reflect on his Hall of Fame career:

"When I was a player with the St. Louis Cardinals, all the NFC games were on CBS. I used to look up at that broadcast booth and all I ever wanted to do my entire life was work for CBS Sports... How many people really have their dream come true like that...Thanks to all the great men and women that I've worked with here at CBS...It's hard to believe it's over but it is, and I'm the better for it."

Dierdorf, the longest tenured NFL analyst in television, had a 13-year career as an offensive lineman with the St. Louis Cardinals before joining the broadcasting ranks with the CBS Radio Network in 1984. A year later, he moved to the TV side with the "NFL on CBS."

In 1987, Dierdorf enjoyed a 12-year run on ABC's "Monday Night Football" alongside Al Michaels and Frank Gifford. In 1999, Dierdorf returned to CBS where he shared the booth with Verne Lundquist, Dick Enberg, and his current partner Greg Gumbel.

In recognition of his 13-year playing career, Dierdorf was inducted in 1996 into the Pro Football Hall of Fame. In 2008, the Hall came calling again. This time to honor Dierdorf with the Pete Rozelle Radio-Television Award for excellence in broadcasting. He joined Gifford, John Madden and Len Dawson as the only Hall of Fame members to receive this award.
*                     *                             *