Chicago Cubs Leaving
WGN Radio After 90 Years


by Lou Schwartz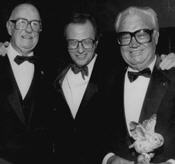 ASA Hall of Famers Jack Brickhouse and Harry Caray, pictured here with talk show legend Larry King at the ASA's 5th annual Hall of Fame Dinner, spent many years calling Cubs games for WGN.

June 4, 2014 - The Chicago Cubs will have a new radio home starting in 2015. The team is expected to formally announce on June 5 the signing of a new long-term deal with WBBM-AM Radio 780.

The move to the CBS-owned station will end a 90-year relationship with WGN Radio, which started broadcasting Cubs' games shortly after signing on the air in 1924. The station became the exclusive home of the Cubs in 1958.

WGN was reportedly losing money on the broadcasts and exercised an option to renegotiate the contract after seeing the Cubs lose 197 games in a two-year period. WGN could have matched the new seven-year deal but declined.

According to sources, the current broadcast team of Pat Hughes and Ron Coomer will make the move with the team to WBBM.
*                        *                            *