Bob Costas Steps Down as
NBC's Prime-Time Olympic Host



Passes Torch to Mike Tirico



by Lou Schwartz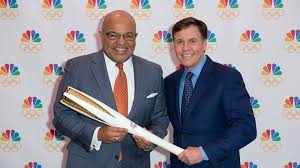 Mike Tirico and Bob Costas

FOR IMMEDIATE RELEASE
February 10, 2017 - Bob Costas, the 26-time Emmy Award winning broadcaster with NBC, has decided to step down as prime-time host of the Olympics.

"I had made this decision more than a year ago, Costas said, "and people at NBC knew about it, but we didn't want it even in the tiniest way to obscure our coverage of Rio or get in the way or distract us in any way. So we waited until now, exactly a year out from the start of the Winter Olympics in South Korea, to make the announcement."

The ASA Advisory Board Member, who has served as the prime-time host of a record 11 Olympic games dating back to 1992, will pass the torch to Mike Tirico, the ASA Lifetime Member who joined the Peacock network in July of 2016 after 25 years at ESPN, starting the the 2018 Pyeongchang Winter Games.

"Bob has been so gracious about all of this," Tirico said. "How lucky am I to get this opportunity of a lifetime and have someone who I think the world of available as a resource? And Bob has said he would be there for any questions I may have or any guidance I might need. I'm just so blessed to be supported by my family and all the good people that are now part of my NBC family as well."

Costas, a four-time winner of the ASA's "Sportscaster of the Year" Award gave a ringing endorsement to his successor Tirico, who was the first recipient of the Bob Costas scholarship from Syracuse University.

"He's a very hard worker," Costas said. "He's a stickler for preparation. He has a broad view of the world beyond just the sport that's in front of him. He can ad lib, he can react spontaneously to situations which often come up in an Olympics... Mike has all of the tools in that tool kit necessary to do a good job."

The 64-year-old Costas said he is not retiring but "transitioning."

"I'll do more baseball for the MLB Network, and maybe if something else comes along that interests me, there will be more time on my calendar to pursue that as well," Costas said.
*                        *                            *