Bob Costas
Ends Legendary Career with
NBC Sports After 40 Years

by Lou Schwartz

                                                  Bob Costas

FOR IMMEDIATE RELEASE

January 16, 2019 - It's truly an end of an era as Bob Costas, NBC's top sports announcer since 1979, has decided to leave the network.

Costas, NBC's longest tenured announcer, revealed his decision yesterday saying, "It's all settled quietly and happily for all concerned." The two sides had reached an agreement last year but decided to keep things quiet.

Costas was a fresh-faced 26-year-old when he joined NBC, working his way up the ranks to become the network's top announcer and garnering a whopping 26 Sports Emmys Awards along the way.

He has served in every capacity- play-by-play, studio hosting and reporting- and has called virtually every sport NBC has offered - Saturday's Baseball "Game of the Week," the NFL on NBC, the NBA on NBC, the Kentucky Derby, and U.S. Open Golf. Not to mention prime time hosting duties of a record 11 Olympics before passing the torch to Mike Tirico in 2018.

A long-time ASA Advisory Board Member, Costas is a four-time winner of the ASA's "Sportscaster of the Year" Award (1989, '91, '92 and '93).
Upon receiving his first award in 1989, Costas, during his acceptance speech said, "To be on this stage here tonight and to be included with people you admire such as Jack Brickhouse, Harry Caray, Dick Enberg, Curt Gowdy and Vin Scully, and to become, ultimately, friends with people who once were your heroes, that's what being up here means to me."

As for his future plans, Costas will continue his work at the MLB Network and is considering a long-form interview show among his many options.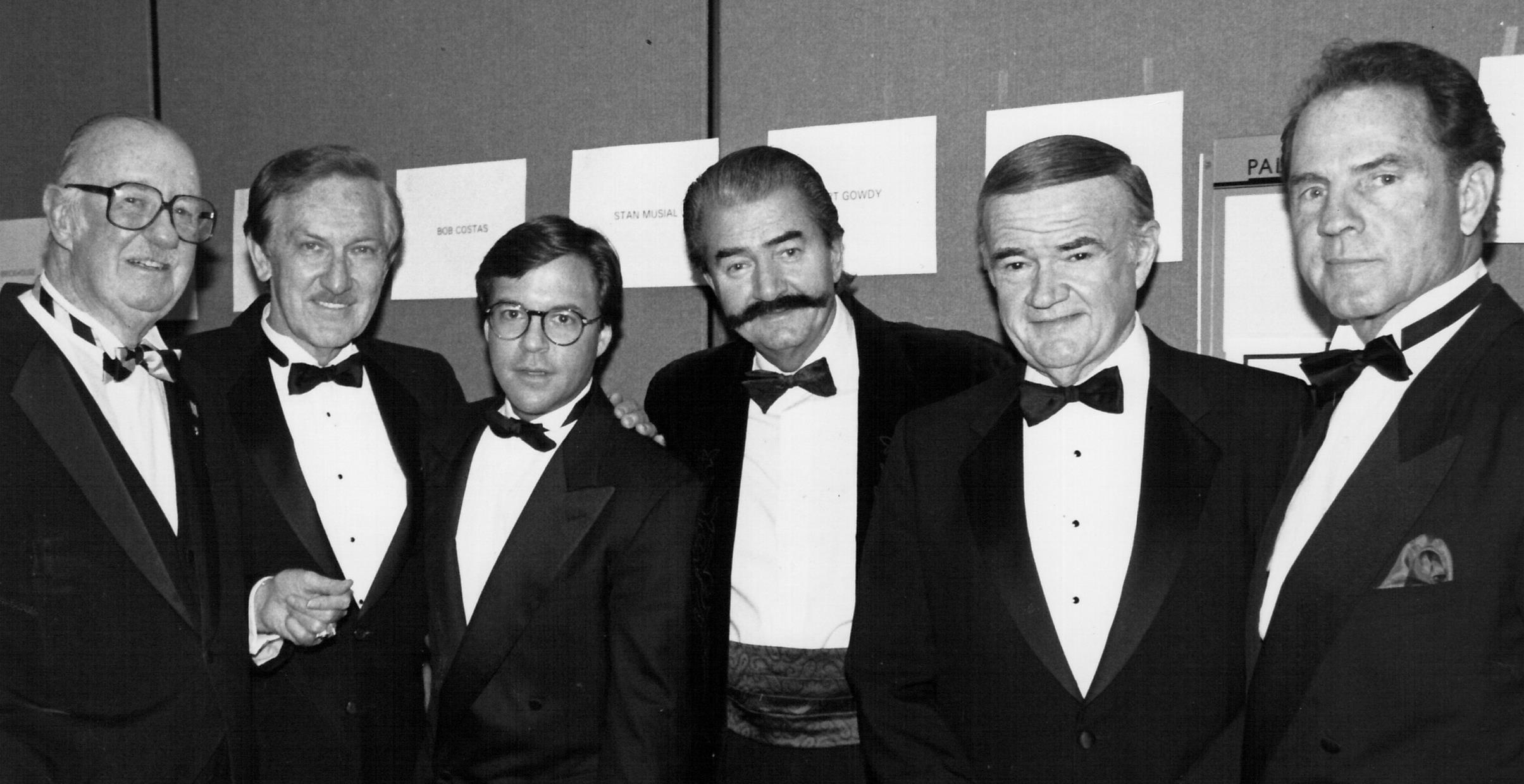 Bob Costas celebrates his first "Sportscaster of the Year" Award with a few of the Dinner Committee members - "Mr. Chicago" Jack Brickhouse, Lou Schwartz, renowned artist LeRoy Neiman, Anheuser Busch Exec. VP Mike Roarty and Frank Gifford - at the ASA Hall of Fame Dinner in 1989

                *                      *                            *