ASA Sportscaster Profile:
Cris Collinsworth

The following is an interview with NBC NFL studio analyst and ASA member Cris Collinsworth at the 29th annual Sports Emmy Awards Ceremony at Lincoln Center in New York City. ASA President Lou Schwartz was on hand for the event and caught up with Cris after he won the Emmy for Outstanding Sports Personality- Studio Host.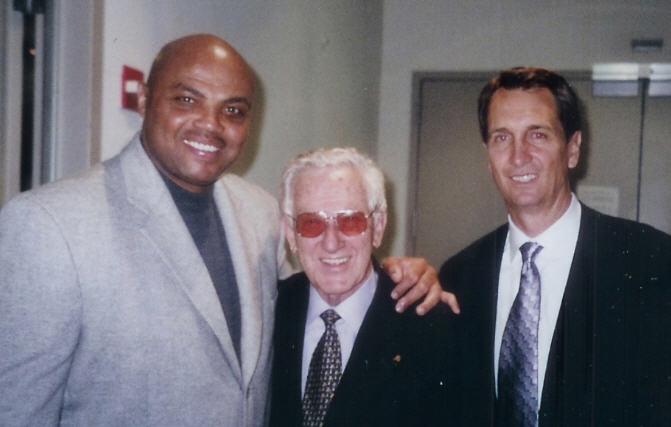 (l. to r.) Charles Barkley, Lou Schwartz & Cris Collinsworth at the 29th Annual Sports Emmys in New York City
Lou Schwartz: When did you get your start in broadcasting?
Cris Collinsworth: HBO called me just a couple of days after I got cut from the Cincinnati Bengals and asked me if I wanted to do features. We talked about a salary and then they asked me if I had any questions and I said, 'Just one, what's a feature?' They took someone who had no idea about television and wasn't very good and created something out of it. They basically fed my family for 20 years so I owe them a lot.
LS: How many years have you been broadcasting?
CC: 18 years.
LS: What happened that first day in the booth?
CC: It was totally out of control. They used to make you do these one minute intros and then send it back to the pregame show and I remember I was just going to pass out. When they sent it down to the booth and it was going to be just me looking into the camera I was thinking this is just not fair. I felt like the president of the United States. I'm on NBC talking to America. I'm just not going to makr it through this. I remember Bob Costas was laughing and having fun. It was just one of the hardest things I had ever done. Going out in front of millions of people and catching a football was nothing compared to this.
LS: Was Bob Costas in the booth with you?
CC: No. He was in the studio. We had done a rehearsal and it was so horribly bad and he said, 'Okay Cris. We'll get back to you in a little bit hopefully with something a little better than that.' When they came back live I was actually a little mad so that helped me get through it.
LS: How many awards have you won?
CC: I've won nine awards.
LS: When you think back, did you ever imagine you'd be up here accepting an Emmy Award?
CC: I tell my wife all the time that we are living year to year. You know that you're just one slip of the tongue away from being done in this business. There is nothing more frightening than live televsion because after three hours of calling a game you begin to lose the idea that you're on national television. You think you're just talking with a buddy and having a few laughs, so you could easily say something that you totally didn't mean to be negative but the next day everybody's talking about it and it's all over the radio and on TV.
LS: But you can't really worry about it too much, can you?
CC: No, but you always have to be on guard. You really have to be thinking all the time because it's so dangerous. How many three-hour conversations have you had with your wife or your best friend and you said someting that you really didn't mean and then you had to explain yourself? It's the same thing on TV.
LS: Who do you think are some of the best sportscasters today?
CC: I think John Madden is the best there is. He's set a standard that's so high it really doesn't matter who's after that. I think Terry Bradshaw reinvented the wheel in the studio. Al Michaels and Joe Buck are so incredibly good it's frightening. I tried to do some play-by-play before NBC got Al. I went through the first quarter and a half and realized I had no idea what was going on in this game. I had just been chasing my tail the whole time.