Jerry Coleman Acceptance Speech, 2005 Ford C. Frick Award Winner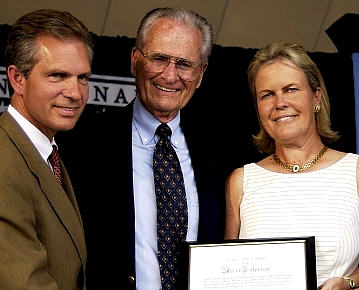 Ford C. Frick Award winner and ASA Lifetime Member Jerry Coleman receives his award from the Baseball Hall of Fame's Dale Petroskey and Jane Forbes Clark at the annual induction ceremonies in Cooperstown, NY, on July 31, 2005

JERRY COLEMAN: Good afternoon. I am delighted to be here. There's no question about that. One of the greatest days of my life is this day here in Cooperstown. I would like to introduce to you my family: My wife Maggie, my daughter Chelsea, my daughter Diane, my granddaughter Courtney and my grandson Christopher, and a pot full of extended family all over the place. They are over there somewhere.
I'm delighted to be here obviously. I want to thank a few people obviously. You have no idea what I've been through the last three or four days. We've been traveling all over the country, to Washington and here to Cooperstown. To make that particular trip, we needed a special plane, and the best owner in the history of baseball came forth, Mr. John Moores and donated his plane to get me to Washington to Albany, to Albany and back to San Diego. John, where are you? I wish you'd stand up. Well, he's out there somewhere and I much appreciate it.
Also, I've had a partner in broadcasting for 25 years and I can't go by without introducing Mr. Ted Leitner, one of the best broadcasters you've never heard. He's great.
I do have to introduce one more man. We drew up in San Francisco, 65 years ago in the sand lots of San Francisco, joined the Yankees together. This man was a young infielder in 1947, called on by Bucky Harris to pinch hit four times, he got three hits and a base on balls, baseball couldn't hold him, he had other things to do. He became a heart specialist in Texas and the final 11 years of his working life he became the president of the American league, Dr. Robert Brown. Where are you? There he is over there. Certainly my longest and best friend in baseball.
I'm delighted to be on this platform with a couple of guys Yogi Berra and Whitey Ford, and I'm sorry that the Scooter, Phil Rizzutto isn't here who I shared broadcast duties with and double play duties with for 16 years in New York Yankees. In that event, I'm so happy to be here, but I must tell you the reason I'm here, and this is the highest honor of my life. I'm here because my peers put me here, my fellow broadcasters brought me in. Where ever you are, whoever you are, God bless you and thank you so much.
When you think about this as I do, you think about in the beginning, a rather rocky note now that I look back on it. In the beginning, the first job I had was to do the interview on the pre-game show on the CBS television network. There were 25 million to 30 million people watching. I didn't know where the microphone was, anything. I was out there like a you know what, nothing. And I had a floor manager who counted me down, five minutes, four and a half, and on down, then finally when he pointed to me, my knees turned to mush and I had Red Schoendienst, he's my interview guest over here, I looked to Red and said something very inquisitive like, "How's it going, Red?" And he talked for five minutes and he didn't stop for five minutes, and finally the floor manager said, "Wrap it up, wrap it up." I said, "Now back to Pee Wee Reese and Dizzy Dean." Red, you don't know how close you came to getting kissed right on the spot.
The next exciting moment I had in broadcasting took place in Kansas City, a hot day like this, twice as hot, humid. Broadcasters on television took off their jackets and in this case their pants to stay cool. And don't laugh yet. It gets worse. And finally I had to go from the radio booth to the television booth, which I did, a little cat walk. I went right across there and it was wonderful and I'm sitting down doing the game happily and all of a sudden a hand on my shoulder. I turned around. It was a policeman. He said, "Put on your pants." Some woman had complained. I didn't think my legs were that bad to be honest with you. So that was the next emotional moment I had.
But the best one came in Cleveland, double headers Yankees, Indians, and my job as the junior with Red Barber and Phil Rizzutto was to go down and get the starting pitcher. I said Birdie, he said (Sam) McDowell and (Jack) Kralick. I said McDowell and Kralick, guys, let's go for the game. One thing that did puzzle me at the time was Sam McDowell was a rather erratic hitter with speed, today he was on the ball doing a great job, and we are talking about it. Finally in the fourth inning from New York from KPIX came this we think that's Jack Cralig. Bob Niel was over to the left. I said Bob, who's pitching? And I can still see the words Jack Kralick. That put me in the Guinness book of records, most inning wrong pitcher for Jerry Coleman. Not many can make that statement.
Also, I'd like to tell you this is a lifetime joy of mine. I've been in baseball my entire adult life and I've loved every minute of it, the road, the journey's incredible, I've done clinics in Munich, Stan Musial made that one, he remembers, yes, we were all over the place. I was in Japan broadcasting games, I played exhibition games throughout Japan, Okinawa, in the Philippines, on Guam, in the Hawaiian Islands, and I broadcast games in the Hawaiian Islands. I made a trip to Vietnam for baseball. All of this is for baseball. And I have broadcast and been in every small village and major city in the United States, but today, on this golden day here in Cooperstown, a journey that started 63 years ago, I feel that finally, finally, I've come home. Thank you.