Chris Schenkel, Legendary Sportscaster and ASA Hall of Famer, Dies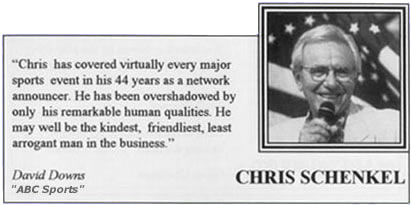 Chris Schenkel, legendary sportscaster and ASA Hall of Famer whose easygoing baritone won over fans during a more than six-decade broadcasting career in which he covered everything from bowling to the Olympics, died September 11, 2004, following a long battle with emphysema. He was 82.
Schenkel's wife, Fran, said she and the couple's two sons were at her husband's side when he passed away early Sunday at Lutheran Hospital in Fort Wayne, Ind., where he had been hospitalized for two weeks after undergoing surgery for a bleeding ulcer.
"He was a very, very sincere, loving man who loved what he did," said Fran Schenkel, noting that they celebrated their 50th wedding anniversary in January.
Schenkel's radio and television career included virtually every major sports competition and several pioneering broadcasts.
He was the first to cover The Masters on television, in 1956; the first to call a college football game coast to coast on ABC; and the first to serve as live sports anchor from the Olympics, in Mexico City in 1968.
His career highlights included calling gymnast Nadia Comaneci's perfect 10 at the 1976 Olympics in Montreal, and calling the 1958 NFL championship game between the Baltimore Colts and New York Giants.
He was also the longtime voice of the Professional Bowlers Association, entertaining a generation of viewers with his Saturday afternoon broadcasts.
George Bodenheimer, the president of ESPN, Inc. and ABC Sports, called Schenkel a pioneering sportscaster and a "true gentleman."
"Everyone at ABC and ESPN mourns the loss of a great friend and colleague. Chris was a pioneer in sports television and was the pre-eminent play-by-play announcer to a generation of sports fans," Bodenheimer said in a statement. "More importantly, he was a true gentleman, beloved by all. He treated everyone with respect and friendship."
Schenkel was born Aug. 21, 1923, on his parents' farm in Bippus, Ind., one of six children. His parents, second generation German immigrants, managed a grain and feed business.
He attended Purdue University and fought in the Philippines during World War II and later in Korea, as an infantry platoon leader. He returned home to find a radio job in Richmond, Ind., before moving into television in Providence, R.I.
In 1947, he assumed TV play-by-play duties for Harvard University football. Schenkel was hired by CBS in 1952 and began a 13-year run as the television voice of the New York Giants that included calling the 1958 NFL championship game with Chuck Thompson. He joined ABC Sports in 1965.
Schenkel also had a long association with the Indianapolis 500. During the 1971 race, Schenkel, astronaut John Glenn and Tony Hulman, the late owner of Indianapolis Motor Speedway, were passengers in the Dodge Challenger pace car when it skidded into a bleacher full of photographers.
Twenty-two people were injured, including Schenkel.
Schenkel was inducted into 16 halls of fame, including the American Sportscasters Association and College and Pro Football halls, and he won an Emmy Award for Lifetime Achievement in 1993.
During the past couple of years, Fran Schenkel said her husband received numerous letters from soldiers serving in Iraq whom she said apparently had seen some of his film appearances. Aside from his work on sports documentaries, Schenkel portrayed himself in several films, including the 1996 comedy "Kingpin."
"They must have been showing a lot of his films in Iraq. We got a lot of mail from the soldiers over there. They'd ask for a picture and we'd send them and write back to the boys," Fran Schenkel said. "He felt very good about it."
In addition to his wife, Schenkel is survived by sons Ted and John, daughter Tina and several grandchildren.