An Interview with Chris Berman, 2010 NFL Hall of Fame Pete Rozelle Award Winner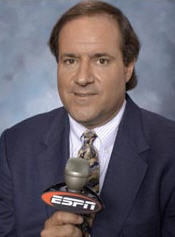 By Josh Weir, CantonRep.com staff report
A veteran of at least 20 Pro Football Hall of Fame enshrinement ceremonies, Chris Berman knows Canton well. Returning every year has become something of a reunion for him. "The folks in Canton have always made myself, everyone in football, so welcome. Like a native," the longtime ESPN broadcaster said recently during a telephone interview. "I guess the nicest thing is, after Friday night, the sixth of August, I'll be a native."
Berman, who has been with the cable television giant since its early days in 1979, received the Hall of Fame's Pete Rozelle Radio-Television Award during the Enshrinees Dinner on Aug. 6 at Canton Memorial Civic Center. Berman is acknowledged on a plaque in the Hall's exhibition rotunda.
"I don't know if the mayor is going to ask me to pay taxes," Berman said, "but I'm sure we can work something out."
The annual award recognizes "long-time exceptional contributions to radio and television in professional football."
Berman returns as the emcee of the enshrinement ceremony this year, after doing the honors from 1999 to 2008.
The NFL Network's Rich Eisen worked as emcee last year since Berman presented Bills owner Ralph Wilson Jr. for induction.
QUESTION AND ANSWER WITH CHRIS BERMAN
Chris Berman, the recipient of this year's Pete Rozelle Radio-Television Award from the Pro Football Hall of Fame, recently talked to The Repository about a variety of subjects, from his own career to the state of the Browns.
Q: What does the Rozelle Award mean to you?
CB: "It's the biggest thank you you could get for something you poured your professional life into. ... Without (Rozelle's) leadership, pro football would never be what it is today. ... He took it from, not the dark ages, but the dimly lit ages, into the bright lights. To be mentioned in the same breath as him is really kind of a misnomer, but something I take very much to heart."
Q: What is your favorite aspect of Hall of Fame weekend?
CB: "I enjoy the passion and love I see from those that are out in the stands, and out at the dinner and at Fawcett Stadium. But also, being amongst the greatest of the game ... being with them who made the game what it is, with whom we marveled at what they did, but they're just the most down-to-Earth, loyal people. Being amongst the Hall of Famers is unbelievable. ... It's a weekend where you remember why you love pro football."
Q: Do you have a favorite Hall of Famer?
CB: "The reason I love pro football, if you want to boil it down to one player, would be Joe Namath. That was my guy. I wore white shoes in junior high school and the whole thing. He doesn't always come back, but when he does, it's the best."
Q: People don't get in the media business to win awards, but you've enjoyed the added benefit of having a decorated career. What has that meant to you?
CB: "I still look at myself as a young man, in his 20s that was just beginning when ESPN was just beginning. We didn't know where it would go. It just seemed like, boy, this might be a fun ride at the amusement park. So why not pay the quarter and get on the thing. I didn't know there wasn't a stop. ... Thirty years later I'm still on it."
Q: How would you describe the growth of ESPN from the time you started until now?
CB: "The man that put us on the map for good was Pete Rozelle, when in 1987 he decided cable TV is ready to get the NFL, and ESPN is the one that's going to get it. We made a deal for eight Sunday night games after Halloween approximately. ... We were OK by then. We were going to be a pretty good place. That took us from a space on the Earth to a space in the sky. So, Pete Rozelle, I and we owe him. It's amazing what goes around, comes around. I'm getting an award with his name on it, but I never would get it had he not made that move for us."
Q: Why do you and analyst Tom Jackson work so well together?
CB: "When you boil it right down, we can complete each other's sentences. We're really the best of friends. It's really what football is. We're just two guys who like football. ... Here's a white kid from Connecticut, that went to an Ivy League school. Here's a black kid from Cleveland that played football at Louisville. But none of that counts. The only thing that counts is that we both like football."
Q: What are your thoughts on the Browns?
CB: "Better. Certainly, once Mike Holmgren has a part of it you're going to be infinitely better. I actually happen to like Coach (Eric) Mangini. I think he and Coach Holmgren, that's going to be a good team. Obviously they can play some defense. It's pretty hard to play defense when you know you can't score. ... It's hard (in that division). A 3-3 run in the division would be a helluva season for this team. Obviously there's no where to go but up, and it won't take too long with Coach Holmgren. He's one of the best football people I've met."
Q: ESPN took a lot of heat for airing "The Decision," LeBron James' announcement about his free-agency plans. What were your thoughts?
CB: "It might not be the finest moment in sports television. Maybe LeBron could have handled the whole thing differently, but I'm not putting blame on just him. If everybody had to do it over again, it might not happen that way."
Q: You recently signed a three-year contract extension with ESPN. How much longer do you see yourself broadcasting?
CB: "Maybe these awards like this one (the Rozelle award) are saying, 'You've had a nice run. It's time for you to go.' I'll have to evaluate that. But I haven't lost my passion for covering football and talking about it. When that alarm rings at 6 a.m. on Sunday morning, I'm still very excited, just like I was in the '80s. So as long as I'm still excited and can speak in complete sentences and ESPN allows me, I'll still be doing it."