'COUNTDOWN' TO BERMAN
By ANDREW MARCHAND, New York Post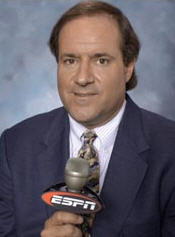 In the wake of the NFL's billion-dollar deals with ESPN and NBC, the first major move involving sportscasters has been made. "Chris Berman will be the host of Monday Night Countdown in 2006," ESPN executive vice president Mark Shapiro told the Post.
Berman will replace Stuart Scott. While Berman will host from the game sites, Scott will still be on the program from ESPN's Bristol, Conn., headquarters. Scott will also handle halftime chores and the post-game SportsCenter.
Berman will remain the host of both Sunday NFL Countdown and NFL PrimeTime, Shapiro said.
This is first in what figures to be a merry-go-round of moves sparked by Monday's announcement that ABC is out of the Monday Night Football business. While Al Michaels and John Madden will work ABC's MNF schedule this season, including the Super Bowl, it is up in the air where they wind up after that.
Prior to acquiring MNF, high-ranking ESPN officials had said that it planned to stick with its Sunday Night team of Mike Patrick, Joe Theismann and Paul Maguire. Since signing the deal, Shapiro seems more open to change. Michaels and Madden are both still in play for ESPN's Monday Night package.
If Michaels can't land the ESPN gig, his future could be tied to what Bob Costas ends up doing. Costas could either call the NBC Sunday Night games or host the studio show. Costas and NBC Sports Chairman Dick Ebersol have yet to discuss any roles.
"I just don't think it is appropriate to speculate," Costas said. "There are many capable people who one could envision in these various roles. I think Dick will have no shortage of worthwhile people to consider. If I bring anything to it, it is, in theory, I could be useful in the booth or the studio."
If Costas is NBC's play-by-player, and Patrick retains his ESPN job, then Michaels, 60, could be left without an NFL job since it's hard to imagine him taking a secondary role at CBS or Fox. Michaels did not return a call.