Kathy Berman
Wife of ESPN's Chris Berman

Dies in Automobile Accident
ASA Offers its Condolences to
Sportscasting Icon Chris Berman



by Lou Schwartz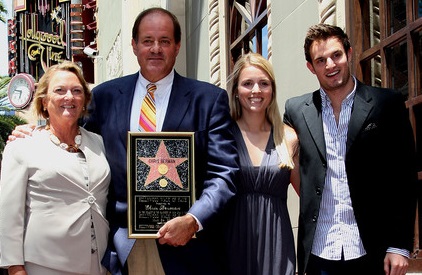 Chris Berman with his wife, Kathy, and children, Meredith and Doug, at the Hollywood Walk of Fame in 2010

FOR IMMEDIATE RELEASE
May 10, 2017 - It is with a heavy heart that I report the sad news that Kathy Berman, wife of ESPN pioneer Chris Berman, died in a car accident on Tuesday, May 9, in Connecticut. She was 67.

According to the police report, Mrs. Berman's vehicle collided with another car, rolled down an embankment and overturned into a pond. The driver of the other car, Edward Bertulis, 87, was also killed after his car hit a utility pole. The cause of the crash is under investigation.

"On behalf of the American Sportscasters Association and the entire sportscasting community, I would like to offer my deepest sympathies to Chris Berman and his family on the tragic death of his wife, Kathy," stated Dick Enberg, ASA Chairman.

Berman, a two-time winner of the ASA's "Sportscaster of the Year" Award, met the former Katherine Alexinski when he faked car trouble so he could ask her out on a breakfast date. Mrs. Berman, a graduate of the University of Connecticut, was a fourth grade teacher at the time the two were married in 1983. The couple have two children, Meredith and Doug.
*                             *                                *