Chet Coppock,
Chicago Sportscasting legend
and Longtime ASA Member,
Dies After Car Accident

(4/30/48 – 4/17/19)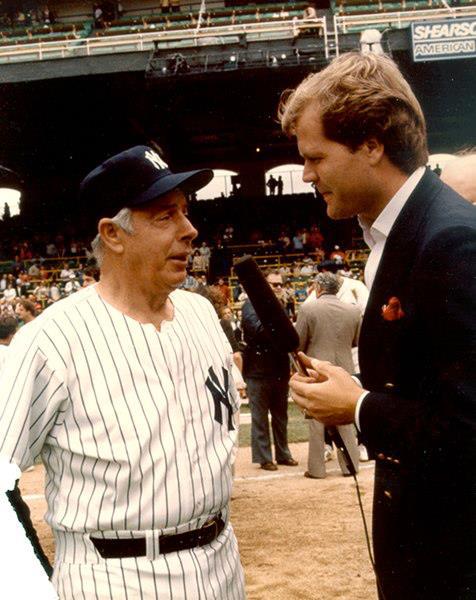 Chet Coppock interviewing NY Yankee legend Joe DiMaggio

Due to the many inquiries we have received regarding Chet Coppock, legendary Chicago sportscaster and longtime ASA member who died from injuries he sustained in a car accident, the following is a reprint of the excerpted article by Phil Rosenthal of the Chicago Tribune.

Chet was a dear friend and strong supporter of the ASA and will be sorely missed.
                                                   ~ Lou Schwartz, President



Chet Coppock, a longtime Chicago TV sportscaster and pioneering sports talk radio host who flamboyantly wore his bravado like his hip-length raccoon coat, has died.

Coppock, 70, died Wednesday as a result of injuries suffered as a passenger in an April 6 car accident outside Hilton Head Island, S.C.

A graduate of New Trier East High School and Columbia College who grew up in suburban Northfield, Coppock was a leading sportscaster at Chicago's NBC-5 in the 1980s and hosted the popular "Coppock on Sports" radio program, on which he greeted callers by saying, "Your dime, your dance floor."

He described nearly every guest as "my good friend."

Coppock seemed to have hit on what he wanted to do in life as far back as high school. As he liked to tell the story, he convinced Bears star Sid Luckman to sit for an interview at halftime of a sophomore football game he was calling on the school radio station.

Born April 30, 1948, Coppock grew up idolizing the late Chicago broadcasting legend Jack Brickhouse, voice of the Cubs, White Sox, Bears, Bulls and whatever else was in front of him and his microphone.

"Jack Brickhouse wasn't just good or great, he was the single most versatile broadcaster in Chicago history," Coppock would recall.

While attending Columbia, Coppock got a low-level job at what's now FOX-32 at age 19 and within three months was writing sports copy. He was on the air for the station before he turned 20.

Coppock left to work as a boxing promoter, then took on the role of producer for Milwaukee Bucks broadcasts, a stint that included the franchise's 1971 NBA title.

Returning to Chicago, he hosted "Sport Rap," a nightly TV talk show on WSNS-44, then rejoined Channel 32 as a staff announcer. Befriending a promoter led to a gig as roller derby's national TV announcer before he had turned 25.

Coppock picked up his bona fides in six years as a sportscaster at Indianapolis' WISH-TV. The pro wrestling fan in him was tickled to turn up in an Indianapolis Star reader poll as both the most popular and most disliked sportscaster in town.

From WISH, at which colleagues included an up-and-coming anchor named Jane Pauley, he again circled back to Chicago, joining NBC-5. His time there was short — just three years — but he left quite an impression.

His radio shows beginning on WMAQ-AM, a shrewd blend of bellowing bombast and cajoling interviews, established a template for much of what was to follow as sports talk became its own format.

Though Coppock left for a brief time in the mid-1990s to work for New York's Cablevision, hosting "NewSportsTalk," he did not stay away for long.

He continued to pick up radio gigs such as a syndicated program for the Sporting News Network and hosting Notre Dame football pregame and postgame shows, as well as doing personal appearances, event-hosting jobs and endorsements.

He also wrote five books, including two memoirs.



*                                  *                                     *