Former NBC Sportscaster
Charlie Jones Dies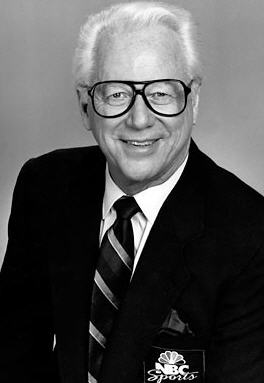 AP-- SAN DIEGO (June 13) - Charlie Jones, the deep-voiced sportscaster whose career as a play-by-play announcer dated to the beginning of the American Football League in 1960, has died. He was 77.
Jones died of a massive heart attack Thursday at his home in the La Jolla district of San Diego, said his wife, Ann.
Jones, who retired in the late 1990s, had been in poor health for several years, she said.
Jones worked for ABC and NBC in a career spanning 38 years.
"He said, 'I never felt like I ever went to work,"' Ann Jones said Friday. "He loved it. He said, 'I've got the best seat in the house.' "
Jones, a longtime member of ASA, started at ABC in 1960, the year the AFL made its debut. He moved to NBC in 1965, remaining with that network until 1997.
Jones announced 28 different sports, while with NBC, from golf to tennis, baseball to figure skating. He called events at the 1988 Seoul Olympics and the 1996 Atlanta Olympics.
"He really liked them all," Ann Jones said. "He really did. He wasn't particular, because they were all so different."
NBC Sports chairman Dick Ebersol called Jones "one of the great pioneers of NBC Sports. His work in particular on the NFL, golf and the Olympics left a lasting legacy."
Longtime agent Martin Mandel said Jones was "one of the legends of sports broadcasting."
"He had a wonderful kettledrum voice. He was known for that and his versatility," Mandel said.
Jones will be cremated and his ashes spread over the Pacific Ocean. A celebration of his life will be held Wednesday afternoon at the La Jolla Beach & Tennis Club.
"He had it in his will that men cannot wear ties," Ann Jones said.
Jones also is survived by two children and three grandchildren.